Father's Day Superhero Cupcakes
Cakes Biscuits & Sweet Treats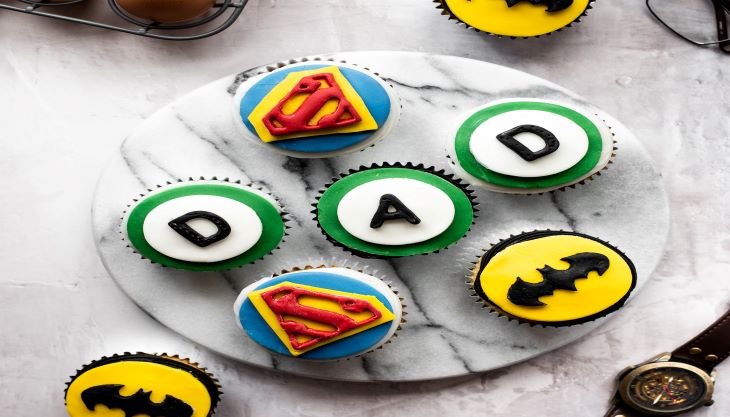 Prep time 25 mins
Bake time 25 mins
Serves 12
Ingredients
For the cupcakes

250g

 Butter (unsalted)

250g

 Billington's Unrefined Golden Caster Sugar

4

 Egg(s) (free range) (medium)

250g

 Self-raising white flour

2 tsp

 Nielsen-Massey Vanilla Extract
For the buttercream

250g

 Butter (unsalted)

500g

 Silver Spoon Icing Sugar

1 tsp

 Nielsen-Massey Vanilla Extract
 Food colouring

For the decoration

 Black sugar paste icing
 Blue sugar paste icing
 Red sugar paste icing
 White sugar paste icing
 Yellow sugar paste icing
Method
Preheat the oven to 180°C (160°C, gas mark 4) Line a cupcake tin with 12 cases.

In a large bowl cream together the butter and sugar until light and fluffy.

Add the eggs on at a time, mixing between each addition and adding a spoonful of the flour if necessary. Follow by adding the vanilla extract.

Carefully fold in the flour then spoon into the cupcake cases, until they are about 2/3 full.

Bake in the oven for 25 minutes or until a skewer comes out clean.

Leave to cool completely on a cooling wire.

To make the buttercream, beat together the icing sugar and butter until light and fluffy, then add the vanilla extract and food colouring.

How to make the perfect buttercream

Fill a piping bag with the icing and pipe swirls on top of the cupcakes.

Roll out the sugar paste icing for your topper and using a knife or a circular cutter (depending on the design) cut out the shapes approximately 2.5 inches in width.

Cut out the designs and letters (if using) with a sharp knife and brush the back lightly with water to stick to the other sugar paste icing.

Place the sugar paste decoration on top of the buttercream swirl and serve.
If your Dad is your superhero, treat him this Father's Day with these yummy vanilla cupcakes. Swap the buttercream colour and decorations to match his favourite comic book characters and you are sure to put a smile on your Dad's face. We've gone with Superman and Batman for this one but you could just as easily create your own Spiderman, Hulk or Ironman toppings with the right sugar paste colours.
This recipe is courtesy of Bakingmad.com