Cakes Biscuits & Sweet Treats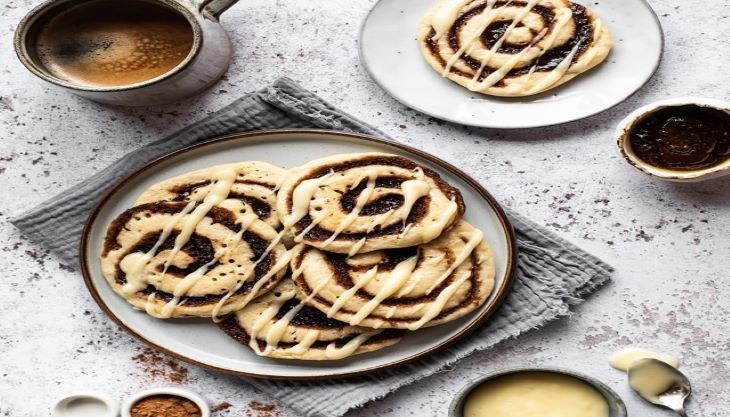 Makes 10 Portions
Preparation 20 minutes
20 minutes cooking time
Ingredients
For the Batter
125g Plain White Flour
2 tsp Baking Powder
½ tsp Salt
250ml Milk
1 tbsp Vegetable Oil
1 Egg (Free Range, Large)
For the Cinnamon Swirl
55g Unsalted Butter (Melted)
90g Billington's Unrefined Dark Muscovado Sugar

The rich taste and all natural colour of dark muscovado adds depth to all of your cooking and baking, making it the world's finest dark brown soft sugar. It pairs wonderfully with chocolate and is perfect in marinades, sauces and chutneys.

½ tbsp Ground Cinnamon
For the Glaze
60g Unsalted Butter (Softened)
60g Full Fat Cream Cheese
155g Silver Spoon Icing Sugar

This is refined white sugar ground to a fine powder with the addition of an anti-caking agent. It dissolves on contact with liquid and is therefore used to sweeten foods that require a smooth texture. It can be used to cover cupcakes and sponges, is easy to colour and flavour and is perfect for butter cream.

1 tsp Nielsen Massey Vanilla Extract

Vanilla extract is a superior flavouring ingredient, derived solely from the vanilla pod by soaking it in alcohol and water. Only vanilla extract has the true flavour and aroma of vanilla pods, producing a fuller, richer taste which will transform the taste of any recipe. Vanilla is also a flavour enhancer so will work with other ingredients and flavours in a recipe to give amazing results! It is a versatile ingredient which can be used in both sweet and savoury dishes, try it in your cakes, cupcakes and buttercream.

We always recommend using an extract rather than essence when baking. Our favourite extract is Nielsen-Massey, it gives consistently great results, the vanilla pods are hand picked in the finest growing regions of Mexico, Tahiti and Madagascar and enter a cold extraction process to extract the vanilla from the pod whilst still preserving over 300 flavour compounds.
Utensils
Mixing Bowl
Jug
Whisk
Piping Bag
Saucepan
Frying Pan
Kitchen Paper
Method
First make the batter. In a large bowl, combine the flour, baking powder and salt. In a jug mix the milk, vegetable oil and egg. Mix the wet ingredients into the dry and whisk until you have a smooth batter. Set aside.

For the cinnamon swirl, mix together the melted butter, dark muscovado sugar and cinnamon until you have a smooth paste. Place into a piping bag and set aside.

For the glaze, gently heat the butter and cream cheese in a saucepan. Whisk in the icing sugar and vanilla until you have a smooth mixture. Set aside.

When you are ready to cook. Heat a frying pan on a medium high heat and wipe with some oiled kitchen paper. When hot, pour in about 60 ml of batter. Immediately pipe a swirl of cinnamon butter onto the  pancake. Wait for bubbles to form. Flip the pancake and cook for 30-45 seconds on the other side.

Remove the pancake for the pan. The pancakes can be kept warm while you finish the batch.

Wipe the sugar from the pan after each pancake to stop it burning.

Serve the pancakes warm with the glaze
If like us you can't resist a Cinnamon Roll then you really have to try this Cinnamon Swirl Pancake recipe. This recipes combines the best of two delicious breakfast treats and is one the whole family will enjoy. Not only does they look great but they taste amazing too, especially when drizzled with our cream cheese icing.
This recipe is courtesy of https://www.bakingmad.com