Chocolate and Clementine Mousse
Cakes Biscuits & Sweet Treats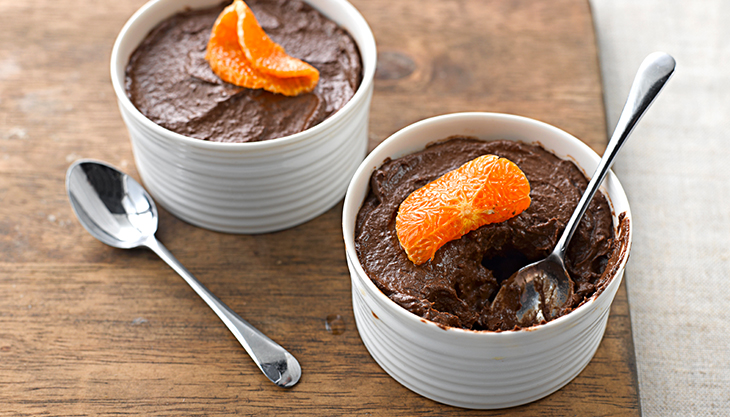 Makes 6 Portions
Not Suitable for freezing
Preparation 6 minutes
3 minutes cooking time
140 C°, 275 F°, Gas Mark 1
Ingredients
2 tsp extra virgin coconut oil
1 medium avocado, peeled and stoned
2 tbsp raw cacao or cocoa powder
1 tbsp honey
1 clementine, peeled and cut into thin slices
Method
Melt the coconut oil by placing it in a small bowl over hot water.
Reserving a couple of clementine slices, put all the other ingredients into a food processor and blend until thick and smooth.
Spoon the mixture into two bowls and chill in the refrigerator. The mousse will keep well for a few hours in the fridge, so can be prepared in advance.
Decorate with slices of clementine and serve.
©The Vegetarian Society, recipe from Happy, Healthy and Delicious cookbook
Cacao and cocoa powder are rich sources of magnesium, which is essential for many functions in the body including bone and heart health.
Energy: 286 kcals Protein: 4.2g Carbohydrate: 17.4g Of which sugars: 12.7g Fat: 21.8g Of which saturates: 8.7g Fibre: 6.1g Salt: 0.1g
TV chefs the Hairy Bikers are on board for National Vegetarian Week 15-21 May 2017! Si King and Dave Myers, aka The Hairy Bikers, are getting involved in National Vegetarian Week and they think you should too!
So visit nationalvegetarianweek.org to get your free poster packs and sign up for newsletters filled to the brim with recipes, tips and fun stuff.