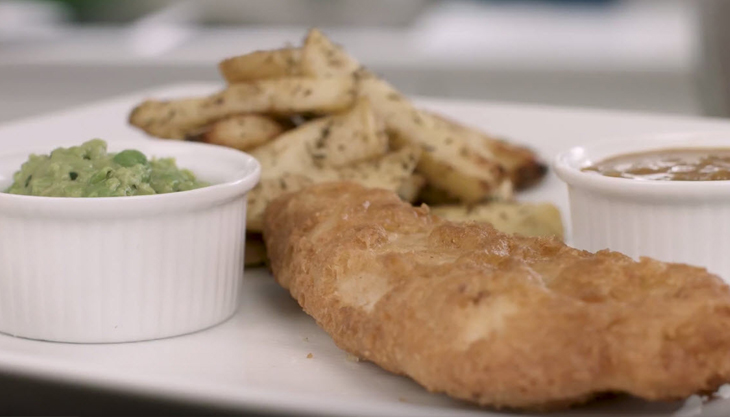 Makes 4 Portions
Not Suitable for freezing
Preparation 10 minutes
30 minutes cooking time
200 C°, 400 F°, Gas Mark 6
Ingredients
1 pack of Young's Chip Shop Cod Fillets
For the Curry Sauce
1tbsp rapeseed oil
2 small shallots –  finely diced
1 Apple – peeled, cored & diced
1 clove of garlic, crushed
1tbsp medium curry powder
1tbsp plain flour
1tsp fresh ginger – finely chopped
½tsp tomato puree
Salt & Ground Black Pepper
1/2 tsp fish stock paste
500 ml of water
For the Chips
800g potatoes – washed
4tbsp rapeseed oil
1tbsp fresh or dried thyme – chopped
1tbsp fresh or dried oregano – chopped
For the Minted Mushy Peas
400g frozen peas
40g melted butter
2 tbsp white wine vinegar
3 tsp fresh tarragon – chopped
3 tsp fresh mint – chopped
Method
Curry sauce  In a sauce pan on a medium heat, heat the  oil and sweat  the shallots until soft.  Add  the garlic, ginger and apple and sweat  for a further 2-3 minutes. Add the tomato puree, curry powder & flour stir well. Add water and stock paste and stir again. Simmer for 10mins. Liquidise slightly with a hand blender. making sure to retain some of the texture.
Homemade chips  Cut potatoes roughly (not peeled) into  chunky chips, leave to soak in water. Drain the chips well. Mix the soaked chips with extra virgin rapeseed oil, oregano & thyme, and season. Bake in the oven at 200°C Fan on baking tray for 25 -30 mins.
Cook the Chip Shop Cod Fillets according to instructions on pack (Place CS Fillets on a wire rack over a deep baking tray and place in the oven and cook for 22 minutes 200°C Fan)
Minted mushy peas  Add peas to a pan of boiling water, bring back to boil and simmer for 2  minutes. Drain well and then place in a food processor or blender. Add melted  butter, vinegar, chopped tarragon & mint  process briefly, making sure to retain some texture. Season to taste.