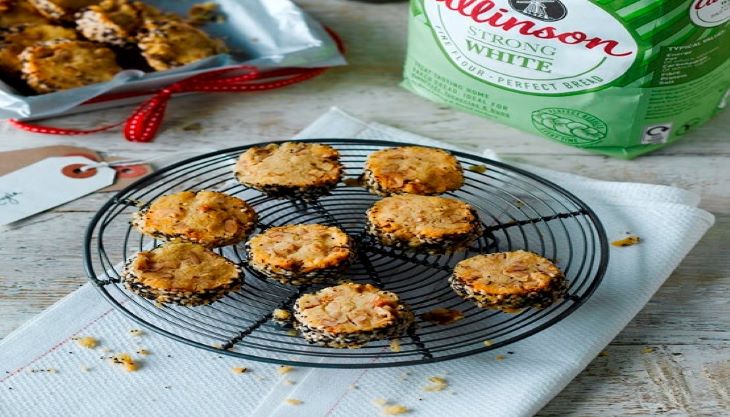 Makes 12 Portions
Preparation 15 minutes
10 minutes cooking time

180

C°, 350 F°, Gas Mark 4
Ingredients
60g Butter (salted) (chilled, cubed)
60g Allinson's Strong White Bread Flour
50g Walnuts
60g Cheddar cheese
1 tbsp Poppy seeds
1 tbsp Sesame seeds
Utensils
Food processor
Mixing bowl
Baking parchment
Cling film
Baking tray
Cooling rack
Method
Method
Step 1:

Rub the butter into the flour using your fingertips until the mixture resembles coarse bread crumbs, alternatively do this is in a food processor.

Step 2:

Stir in the walnuts and the cheese and bring the mixture together in a sausage shape about 20 cm long.

Step 3:

Sprinkle the poppy seeds and sesame seeds over a piece of baking parchment and roll the dough in the seeds until the outside is completely coated, wrap in cling film and chill for 30 minutes.

Step 4:

Preheat the oven to 180C (fan 160C, gas mark 4). Unwrap the chilled dough and slice into 12 rounds and place them on lined baking sheets, leaving a bit of room for spreading.

Step 5:

Bake in the oven for 10 minutes until lightly golden around the edges.

Step 6:

Transfer to a wire rack to cool and store in an airtight container. These are perfect as gifts either cooked or uncooked to have with Christmas drinks.