Cakes Biscuits & Sweet Treats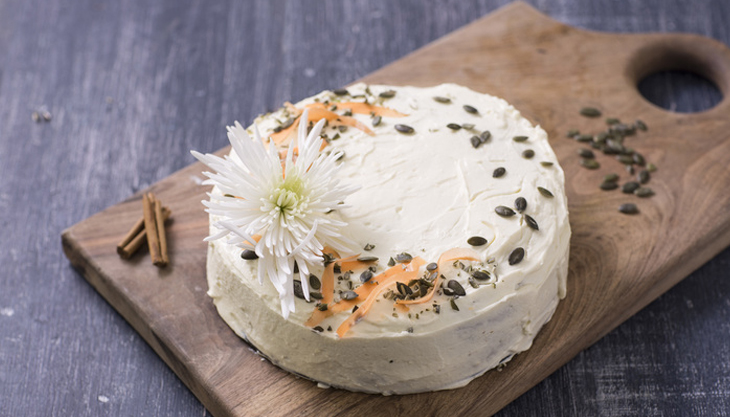 Makes 18 Portions
Suitable for freezing
Preparation 30 minutes
50 minutes cooking time
180 C°, 350 F°, Gas Mark 4
Ingredients
Cake
4 eggs
300ml (1/2 pint) vegetable oil
350g caster sugar
1 teaspoon vanilla essence
250g plain flour
2 teaspoons bicarbonate of soda
2 teaspoons baking powder
3 teaspoons ground cinnamon
450g carrots, peeled and grated
100g chopped toasted pumpkin seeds or pecans (optional)
Icing
100g butter, softened
1 (200g) tub cream cheese, softened
450g icing sugar
1 teaspoon vanilla extract
100g chopped toasted pumpkin seeds
carrot peelings to decorate
Method
Preheat the oven to 180°C. Grease and flour a 9inch/ 23cm cake tin.
In a large bowl, beat together eggs, oil, caster sugar and 2 teaspoons vanilla
Mix in flour, bicarbonate of soda, baking powder, salt and cinnamon. Stir in carrots and fold in pecans or pumpkin seeds if using. Pour into the prepared tin.
Bake in the preheated oven for 40 to 50 minutes or until a skewer inserted into the centre of the cake comes out clean. Let cool in cake tin for 10 minutes, then turn out onto a wire rack and cool completely.
To Make topping: a medium bowl, combine butter, cream cheese, icing sugar and 1 teaspoon vanilla. Beat until the mixture is smooth and creamy.. Spread over the top of cake when it has cooled. Decorate with toasted seeds or pecans and carrot peelings. TIP: To avoid lumps in the icing, make sure the butter and cheese are very soft.
You cannot beat this classic carrot cake recipe. This was handed down by my mum, and is a failsafe recipe that can survive freezing, making into a loaf, muffins or a huge three tier number. This recipe makes enough for two layers.