Carrot, Beetroot and Harissa Hummus Flatbread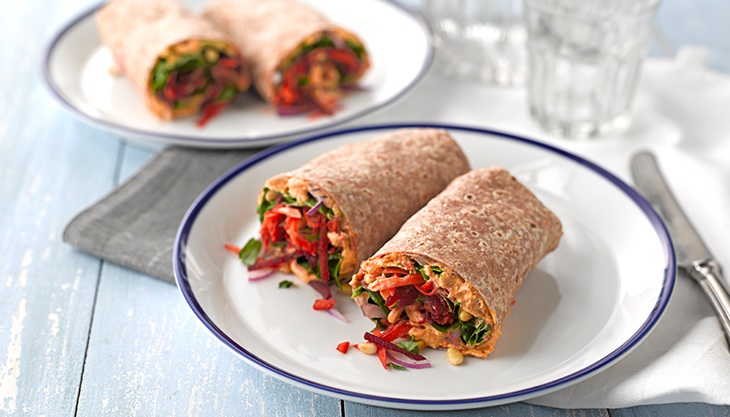 Makes 6 Portions
Suitable for freezing
Preparation 10 minutes
1 minutes cooking time
140 C°, 275 F°, Gas Mark 1
Ingredients
25g pine nuts
100g hummus
1 tsp harissa
1 large carrot, peeled and grated
2 medium beetroots, peeled and grated
2 tsp lemon juice
2 large wholemeal flatbreads
½ small red onion, finely sliced
50g spinach, finely sliced
10g fresh flat leaf parsley, finely chopped
Pinch of salt
Method
Set a small frying pan over a medium heat and add the pine nuts. Toast until golden brown taking care not to burn them.
Combine the hummus with the harissa in a bowl.
In another bowl add the carrot, beetroot and lemon juice and combine well.
Lay each flatbread out and spread with the hummus and harissa mixture. Now place the red onion, spinach and parsley on top of the hummus. Finally spoon over the carrot and beetroot and sprinkle with the toasted pine nuts.
Season with a pinch of salt and roll each wrap, then cut in half to serve.
©The Vegetarian Society, recipe from Happy, Healthy and Delicious cookbook
This dish is a rich source of folate, which may benefit heart health in people with high levels of homocysteine in the blood (a risk factor for heart disease).
Energy: 317 kcals Protein: 11.8g Carbohydrate: 46.7g Of which sugars: 12.7g  Fat: 9.3g Of which saturates: 1.2g Fibre: 10.1g Salt: 1.9g
TV chefs the Hairy Bikers are on board for National Vegetarian Week 15-21 May 2017! Si King and Dave Myers, aka The Hairy Bikers, are getting involved in National Vegetarian Week and they think you should too!  
So visit nationalvegetarianweek.org  to get your free poster packs and sign up for newsletters filled to the brim with recipes, tips and fun stuff.