Build Your Own Bird Feeder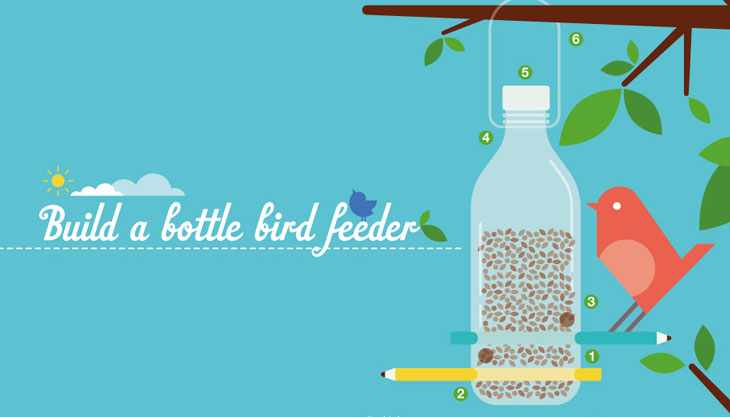 Welcome birds into your garden by following these few quick and easy steps to building your very own bird feeder.
What you need:
Plastic Bottle (approx 500ml)
2 Pencils
Knife or Scissors
Wire or String
Bird Feed – try and go for a mix of flaked maize and sunflower seeds
A grown-up to help you
How to make your bird feeder:
1.   Holes for the Perch
Make 2 holes in the bottle, opposite each other, roughly 4 cm from the bottom of the bottle.
You'll want the pencils to fit nicely and securely in their place – the birds will thank you for it.
Place 2 more holes in the bottle, slightly below the other holes and again opposite each other for the second pencil.
2.   Fitting the Perch
Feed the two pencils through their holes at 90 degree angles
3.   Feeding Holes
Pierce small holes above the perches so the birds can reach the seeds. The holes should be slightly larger than the size of the seeds.
4.   Fitting Wire or String for Hanging
Pierce two holes at the top of the bottle, beneath the lid. Thread wire or string through the holes.
5.   Inserting Bird Food
Remove the lid of the bottle and insert the bird feed
6.   Hanging the Bird Feeder
Tie the wire or string round a tree branch or a washing line. Keep the bird feeder as high off the ground as possible so the birds can feed safely.
You can also download the instructions HERE to print them off.