Cakes Biscuits & Sweet Treats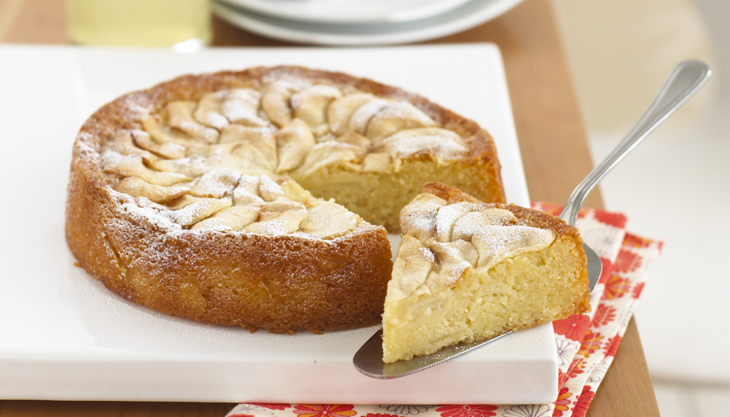 Makes 8 Portions
Suitable for freezing
Preparation 20 minutes
80 minutes cooking time
150 C°, 300 F°, Gas Mark 2
Ingredients
2 Granny Smith apples
2 squeezes lemon juice
175g caster sugar
175g unsalted butter
3 medium eggs, separated
125g ground almonds
50g self raising flour
1 tsp almond extract
1 tsp baking powder, sifted
Icing sugar for dusting
Method
Peel, quarter and core the apples. Slice two of the quarters very thinly, toss with a squeeze of lemon juice in a bowl and set aside.
Slice the remaining apple quarters more thickly and cut the slices in half, place in a bowl, add a squeeze of lemon juice and a tablespoon of the sugar, then toss to coat.
Set aside for ten minutes while you prepare the cake mixture.
Preheat the oven to 150C/300F/Gas Mark 2 and butter a 20cm springform cake tin with a removable base.
Cream the butter and remaining caster sugar together until light and fluffy.
Beat in the egg yolks, then incorporate the ground almonds, almond extract and the baking powder, working the mixture as little as possible.
Transfer to a large bowl.
Stiffly whisk the egg whites in another bowl and fold into the cake mixture.
Add any juice from the thickly sliced apples, then drain the slices thoroughly on the kitchen paper and gently fold into the mixture.
Transfer to the prepared cake tin and smooth the surface. Drain the finely sliced apples and arrange on top of the cake.
Bake for roughly one hour 20 minutes until golden and a skewer inserted into the centre comes out clean.
Run a knife around the edge of the cake, and leave to cool in the tin for several hours before transferring to a wire rack and dusting with icing sugar.