The costumes and the drama – On Location: new exhibition at Wentworth Woodhouse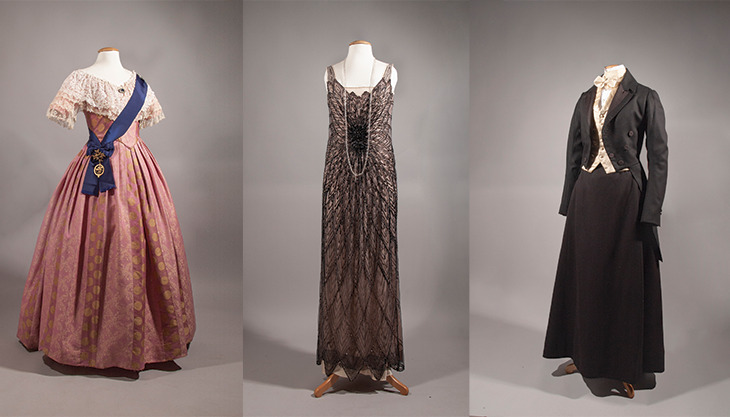 The costumes and the drama – On Location: new exhibition at Wentworth Woodhouse
From its servants' quarters to its grand Marble Saloon where Royalty were entertained, Wentworth Woodhouse has stepped back in time to 'star' in many a period drama.
Rotherham's Grade I listed Georgian stately home has become a popular location for TV and film companies.
Trucks, trailers and vans frequently line the front lawn as sets are created.
Hundreds of crew members descend, thousands of pieces of kit line the hallways and miles of cables run throughout the house and then the stars of stage and scene arrive for their scenes.
But it's when the actors step into their costumes that the real magic begins.
Painstakingly made for historical accuracy, whether it's for an Edwardian ball or a lowly Victorian backstreet, the outfits transport the house back to bygone days.
Now visitors are getting a chance to see up-close a collection of 24 costumes worn in productions at Wentworth Woodhouse.
On Location, the Preservation Trust's latest exhibition, runs from September 19 to November 5 and is free to view with house and garden admission tickets.
Four costumes from ITV's Victoria, including several historically-accurate gowns worn by its star, Jenna Coleman, will be on display.
Wentworth Woodhouse doubled as several famous locations in Victoria. The Chapel Corridor became part of the Houses of Parliament, the Low Drawing Room became the interior of 10 Downing Street and the East Front Lawns were used as a military procession at Buckingham Palace.
The striking black costumes worn by actress Suranne Jones for her multiple-award-winning portrayal of the redoubtable' Anne Lister in ITV's Gentleman Jack also feature.
Numerous areas of the house and grounds were used for the series. The Whistlejacket Room was transformed into a café in the Louvre, the Marble Saloon became a bank and the entrance to the Stables doubled as the gates of Paris.
Also on show will be costumes worn by Keeley Hawes in the period drama Wives and Daughters, and four elegant outfits from the ballroom scene in the 2019 Downton Abbey movie, which was filmed in the mansion's epic Marble Saloon.
They include Hugh Bonneville's as Lord Grantham, a dramatic beaded gown worn by Michelle Dockery as Lady Mary and a purple dress worn by Dame Maggie Smith as the Dowager Countess – the colour reflecting the half-mourning the character was in for family killed in the Titanic disaster.
Historical fantasy TV series Jonathan Strange and Mr Norrell used the mansion's Low Drawing Room as a principle set and its bookcases and colour scheme remain in place today. Three costumes from the BBC series will be displayed and six deliberately aged and faded outfits from Netflix series The Irregulars will be in the State Dining Room.
Netflix left a legacy too – it removed ugly 20th Century tarmac to expose original cobbles before building its set in the mansion's Fives Court servants' courtyard after.
For the exhibition, Wentworth Woodhouse worked extensively with two specialist TV and film costume companies – Angels London, 2016 BAFTA winner for Outstanding British Contribution to Cinema and provider of costumes to 38 films which won Oscars for Best Costume, and Cosprop, an internationally recognised Period Costume house based in North London.
Trust volunteer and professional choreographer Deborah Greenfield created soundscapes and is staging the mannequins and a video has been created by the Trust's Digital Volunteers, detailing what it's like to host a TV or film production at the house.
Jen Booth, Visitor Operations Manager, commented: "On Location gives our supporters a chance to see these beautiful costumes and find out how they were made and where they were filmed with us."
Sarah McLeod, CEO of the Trust, commented: "Every week Wentworth Woodhouse receives enquiries about using the site as a film or TV location. It's an important source of income, as we work to be a catalyst for positive change in South Yorkshire.
"We have a lot to offer as a filming location –  multiple sites featuring a variety of architectural periods, dilapidated and derelict areas and beautiful gardens featuring several historic structures.
Productions can film multiple scenes in one location and because the house is empty for the most part, crews don't have to work around priceless paintings and furniture. And of course, they get a warm Yorkshire welcome."
For further details and to book tickets, CLICK HERE
To find local events, see our Whats On guide and make sure you localise to your area. Or click here to go back to the News pages.