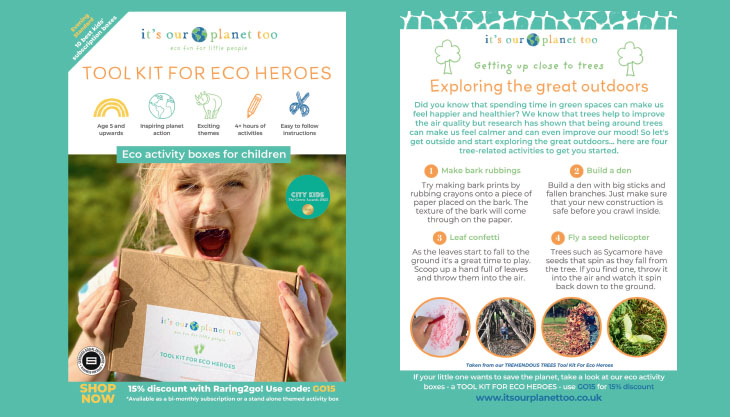 It's Our Planet Too is a social enterprise, founded by Kate a mum of two with the aim of inspiring our children to love and care for the environment. We chat to Kate about her own journey and inspiration behind setting up her children's eco brand.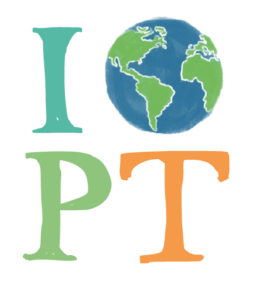 Can you tell us why you started It's Our Planet Too ?
The idea for It's Our Planet Too came about many years ago. Having studied Environmental Science at university, I always had an idea to launch a website for children about the environment and registered the domain names nearly fifteen years ago but it wasn't until I had children of my own that I had the opportunity to develop the idea.
My children are growing up in a world facing very real challenges. Their generation is starting to take notice of our impact on the environment and the importance of taking care of our precious planet. We need them to become eco-heroes who are empowered to make a difference, so It's Our Planet Too is about inspiring them to care.
What's your aim with It's Our Planet Too ? 
At It's Our Planet Too, our vision is for every child to believe that they have the power to protect our planet. I want to believe that if everyone was aware of the impact that their actions were having on our planet, they would take steps to change it. But this has to start with gently educating our children (and their families) – so considering our environmental impact becomes a way of life and starts to dictate the choices that we all make. Our aim is to encourage children to think about how what we do affects nature and the environment. From tiny seedlings to huge trees and the animals that rely on them.
It's Our Planet Too is a Social Enterprise, so what does that mean ? 
Social enterprises are businesses that are trying to change the world for the better. Just like traditional businesses, they aim to make a profit. It's what they do with this profit that sets them apart – reinvesting or donating them to create positive social change.
At It's Our Planet Too we are committed to giving back and are very proud to distribute our Tool Kits to children who may not receive any environmental education.
What does living sustainably means to you ?
Sustainable living is about making small conscious changes. For example walking instead of driving, recycling, being aware of our water usage. Also cutting down on waste, ditching the clingfilm, eating less red meat. Don't aim for perfection because the chances are, you will fail, just start small. Don't radically change your life. Just do what you can and before long it becomes a habit. Then you're on your way to making a difference and changing the world.
What's your biggest tip for families trying to be a little more eco ?
It's My planet too… biggest tip would be to lead by example. Make it normal to say no to single-use plastic, remember to bring your reusable bottles and cups everywhere. Recycle get composting, enjoy nature. Children love to do their part in helping our environment. So by showing your little ones how it's done, they will very quickly get the picture. Making sustainable choices then becomes a way of life.
Tell us more about your Tool Kits For Eco Heroes.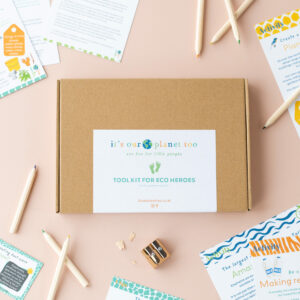 Our Tool Kits For Eco Heroes are activity kits designed to gently teach children about our environment. They are available as a bi-monthly subscription or as stand alone activity boxes, so you can choose your child's favourite animal or a theme that you like the sound of!
Each Too Kit is packed with hours of fun activities to help children take action and save our environment. We'll help them learn about their favourite animals and how they can help them, as well as some of the biggest issues facing our planet and what they can do to make a difference.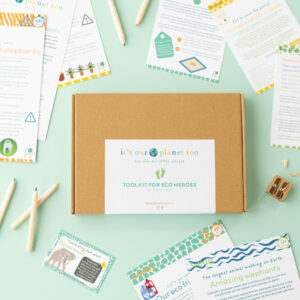 Inside you can expect to find exciting arts activities, cool science experiments and yummy recipes to try. We'll get them raiding the recycling box for creative crafts and junk modelling and give them plenty of ideas to get outside in nature… They might get just a little messy! Together, you can read the inspirational stories of Earth's heroes and wow them with our fascinating facts plus much, much more!
Most importantly, our activities use items found in your home, garden or even the recycling box. They are 100% sustainable and plastic free. To find our more, visit our website: www.itsourplanettoo.co.uk
Instagram: www.instagram.com/its_our_planet_too/
Facebook: https://www.facebook.com/Itsourplanettoo