Vulnerable Sheffield children with serious issues will receive help and support down on the farm thanks to Yorkshire Freemasons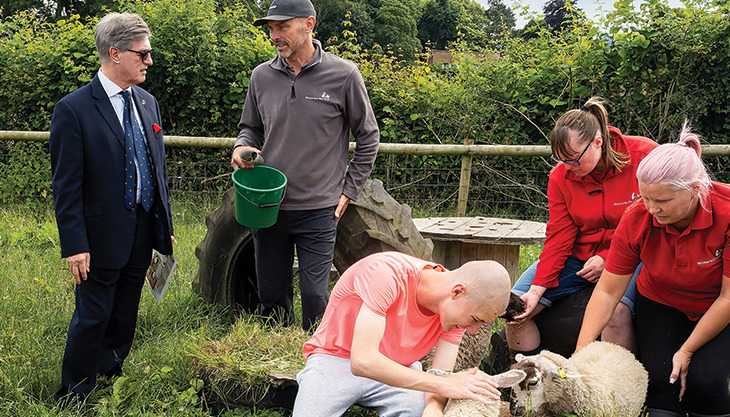 Hundreds of vulnerable children and young people from across the region will receive support on a working farm to overcome a range of serious issues and return to education, thanks to a grant from Yorkshire West Riding Freemasons to Whirlow Hall Farm Trust.
The £54,000 grant will see well over 300 local children spending extended periods at the farm near Sheffield where they will work to overcome mental health and physical illness and the aftermath of life changing events such as bereavement.
The children who are referred to Whirlow Hall Farm are disengaged from education due to the issues they are facing. Whirlow provides activities which are fun, engaging, and tailored to the needs of learners, with every young person having their own goals and achievements.  They are supported to reduce their anxieties and reengage with education. They may return to their school, secure a place at a new or special school, or gain qualifications during their time at Whirlow to support them to access further education.
The children and young people get involved in real farm jobs and activities based on their age, abilities and interests. This could be anything from egg collecting to moving large animals around the farm to helping with lambing. Each youngster has their own needs and interests and attends between one to three days per week for a minimum of 12 weeks but most stay much longer. The activities are all linked to the curriculum and learning is embedded throughout. Additionally there are classroom based activities to support their learning and for when the weather is not suitable for being outdoors all day.
The results of the programme are extremely positive, with 85 per cent of children who have attended the Farm showing a reduction of anxieties after 12 weeks. For those who stay for longer, at 6 months this increases to 95 per cent. Once they are back at school, 70 per cent reported improved behaviour and better engagement in lessons leading to a reduced chance of exclusion. Last year, 86 per cent progressed in a way that was suitable for them. The team at Whirlow expect this to be at least 90 per cent at the end of this academic year.
The grant from Yorkshire West Riding Freemasons comes through the Masonic Charitable Foundation, which is funded by Freemasons, their families and friends, from across England and Wales.
Ben Davies, Whirlow's Chief Executive, said:
"We're very grateful to Yorkshire West Riding Freemasons for their generous grant, which will allow us to help hundreds of very vulnerable children and young people get back to school. The therapeutic activities on our working farm are a proven way to help them overcome all manner of serious issues ranging from physical and mental health problems through to bereavement. Thanks to the Freemasons we can continue to provide this vital service."
James H Newman OBE, Head of Yorkshire, West Riding Freemasons, said:
"I'm delighted Freemasonry has been able to support the Whirlow Hall Farm Trust in their hugely valuable work with children who have serious and complex needs. Providing them with a safe, relaxed, and fun environment, by which they can recover their confidence and health, and ultimately re-engage with education, is absolutely crucial to their long-term future. The remarkable results of the Trust's programme speak for themselves."
About Whirlow Hall Farm Trust
Whirlow Hall Farm Trust is an educational charity based in Sheffield. We provide a range of educational and therapeutic programmes on our working farm with a focus on supporting children and young people who are struggling due to complex and debilitating disadvantages and acute trauma.
The children and young people we support are among the most disadvantaged in our region, facing a complex combination of difficulties, including medical and mental health conditions, learning needs and disabilities, and heart-breaking personal circumstances. The youngsters we work with may have been excluded from school, or at risk of exclusion. They may be school refusers, or on reduced timetables or accessing a full timetable but are struggling to stay engaged, finding more academic subjects challenging. Through our work, we support these youngsters to reduce their anxieties and reengage with education.
Find out more about Whirlow Hall Farm Trust HERE
To see more local News CLICK HERE