How to choose a child's first bike and kit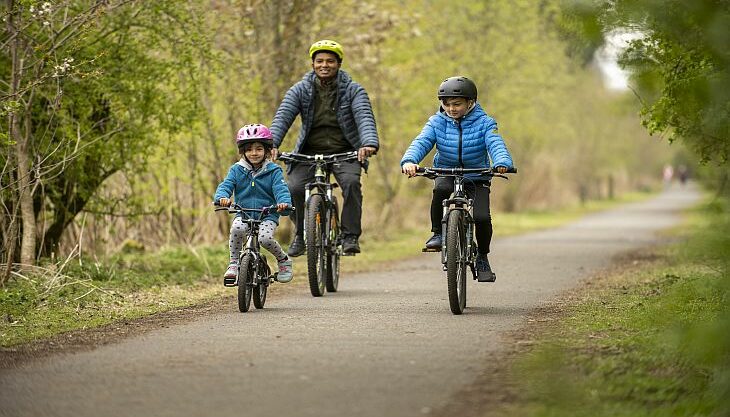 In 2021 Sustrans, the charity making it easier for people to walk and cycle,  commissioned a YouGov poll which surveyed 1,305 pupils aged six to 15 years old across the UK. This showed that half (49%) of UK school pupils were worried about air pollution near their school and 62% didn't think adults were doing enough to tackle climate change. 53% believe that adults don't listen to children's concerns about the topic.
With that in mind, children clearly want more to be done when it comes to climate change and air pollution. Walking, wheeling and cycling are great ways to get started on the journey towards being more sustainable.
Please see below some tips they have put together on cycling with children and young people…
Tips for cycling with children
Don't go too far, you want to end the journey 'happy tired' not 'never want to ride a bike again tired' and make sure to plan rest stops along the way
Know where you're going so you don't get lost. This also gives you the option of planning routes that don't go on main roads – use Sustrans handy 'traffic free family rides' blog to find one near you!
Don't go too fast – you want to all enjoy the ride, not make anyone feel like they're being left behind
Pack some snacks, and then pack a few more! You want to keep energy levels up during the physical activity – and they're a great excuse to take a break!
Take others – bringing a friend can make it more enjoyable for everyone and it gives the children some entertainment.
Make it an adventure, play games along the route to keep morale high
Double check your bikes the day before so you're fully prepared
If you're riding with a child on the back of a bike, make sure they have layers as they could get chilly as they're not producing heat by pedalling
Most importantly have fun!
Benefits of cycling with children
Improve your fitness
Boost your positive mental attitude, and your childs – cycling can help to relieve stress
Interaction improves your bond with your child
Travel around town for free
Introduce a healthy activity to your children while they are young
Do something together in the fresh air as a family that's free and fun
Many teachers report that kids who walk and cycle to school are more alert and ready to learn than those who arrive by car
It's fantastic fun and, for many kids, can feel much more exciting than travelling by car
Cycling can help kids get to know their local area and feel part of it
Good travel habits learned young will last a lifetime
Cyclists breathe in less pollution from traffic than car drivers
You can find more interesting and helpful tips here… CLICK HERE!