Meet Libby … last years Razzamataz Stage Scholarship Winner!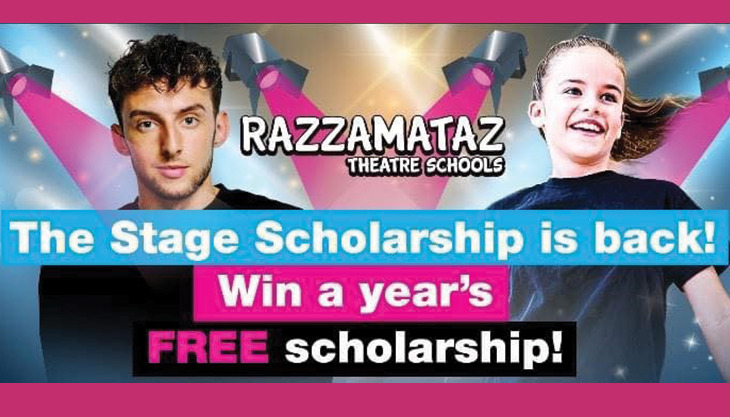 Meet Libby … last years Stage Scholarship Winner!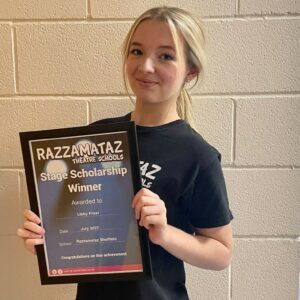 Libby Frost, age 15, is one of our Senior students at Razzamataz Sheffield and last year was awarded a prestigious scholarship with The Stage newspaper to attend her classes completely free of charge for a year after an audition process judged by industry professionals.
Libby has attended Razzamataz Sheffield for 8 years and during her time has performed at Sheffield City Hall, The Octagon and Shaftesbury Theatre in London's West End. She has had the opportunity to take part in multiple specialist workshops from top industry professionals including West End performers. She applied for the scholarship in May 2022 singing 'Almost There' from Princess and the Frog.
Libby was praised for her performance and the judges were particularly impressed by Libby's choice of song and vocal quality were perfect for your voice and age.
"I thought that your song choice and camera angle was amazing as you really showed your talent throughout and I was really able to see what you can do with your voice. Your mix quality is really beautiful, solid and well supported." said Guest Judge, Paige Miller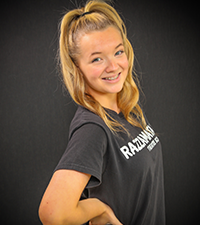 Libby was delighted when she heard and it has given her an enormous boost of confidence. "I was completely in shock when I received the call but felt really proud of myself. The scholarship means a lot to me as it has boosted my confidence and made me want to push myself further for any opportunities that come my way in the future. The scholarship will enhance my CV and it will help me focus more on my Performing Arts training this year."
Since winning the Stage Scholarship, Libby has been offered a place at two top Colleges to further her training in Musical Theatre in September, she auditioned for both CAPA College in Wakefield and Expressions Performing Arts in Mansfield.
Libby, after all of your dedication, training and hard work this is extremely deserved and we can't wait for you to start your CAPA College journey.
To apply for The Stage Scholarship, contact Razzamataz Sheffield on 07979 189177, email sheffield@razzamataz.co.uk or CLICK HERE
Closing date: Monday 5th June 2023
Remember it's just potential we are looking at!
#TheGiftOfConfidence – Good Luck!
You can also find us on social media:
Website
Facebook
Instagram
For more details about Razzamataz Theatre School Sheffield click here