Healthy Meals for Busy Families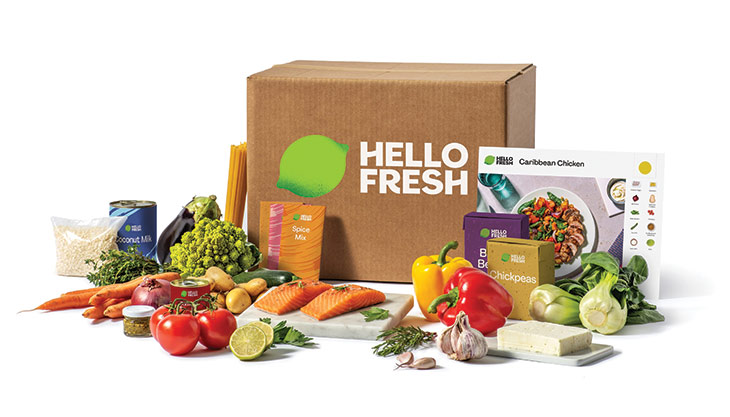 Top 6 Benefits of Food Delivery Services like Hello Fresh.
Do you spend lots of time each week planning your family's meals? How much time is that over the course of a year?  Do you ever just not have time to plan meals at all? Are you an emergency supermarket dasher, grabbing stuff you think you might need for dinner? Do you find yourself throwing up to half the food you buy in the bin? This sadly happens much more often than any of us would like to admit!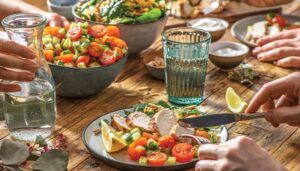 We know that having providing a busy family with well balanced and healthy meals is a tough job. A job made harder by having  fussy eaters and a busy lifestyle. But having your children do after-school activities shouldn't affect the meals you're able to cook in the evening.
This is why Food Delivery Services such as Hello Fresh are the perfect solution for busy families. Choose the meals you want, use fresh seasonal ingredients, get convenient weekly deliveries and cook together with your little ones. The beauty of following the easy recipes that are provided and keeping waste to an absolute minimum!
But that's not all, read our top 6 reasons why Hello Fresh is great for families:
1 Convenience
One of the biggest advantages of using Hello Fresh is the convenience it offers. With busy schedules and a multitude of responsibilities, finding the time and energy to plan, shop for ingredients, and cook meals from scratch can be a real challenge for a young family. By using a food delivery service, you can easily meal prep, selecting your meals online or through an app, saving time and reducing stress. You reduce the effort needed when ingredients and recipes are delivered straight to your door.
2 Variety

When it comes to using Hello Fresh, you have access to an incredible variety of food options. From traditional family favourites to exotic international cuisines, there really is something for everyone. Including some simple dishes available for those mildly annoying fussy eaters! Additionally, Hello Fresh offers customisable menus, allowing families to modify meals to fit their dietary requirements and preferences. Perfect!
Hello Fresh partners with a wide range of local restaurants and chefs, so you get to explore a diverse range of culinary options from the comfort of your home. Whether it's a hearty Italian pasta dish, a spicy Thai curry, or a fresh and flavourful salad, Hello Fresh offers an extensive range of options that cater to all tastes and preferences. Ultimately, the variety of food available through Hello Fresh ensures that families can enjoy a varied and exciting range of meals.
3 Time-saving
Reclaim valuable time thanks to Hello Fresh meal preparation, and spend it on quality time with your family. Pick up a book or resume a long forgotten hobby. Spend the time you save relaxing in whatever way you find works. The time you save in meal preparation can also help reduce stress and increase productivity. This combined enables families to focus on other important aspects of their lives.
Hello Fresh has a selection of "Rapid" foods which can be cooked and served in 20 minutes or less! The majority of their dishes take under 45 minutes to cook which is a real plus! Whatever your day is looking like, Hello Fresh can help make sure dinner isn't a worry or a stress point.
With the home delivery options available through Hello Fresh, you no longer need to wait in long lines at the supermarket for your weekly shop. Your products and recipes are delivered straight to your door. Enjoy delicious and healthy meals without sacrificing precious time or adding to already hectic schedules.

4 Health benefits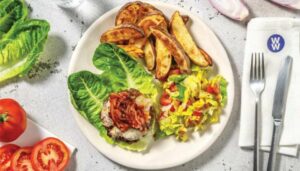 Hello Fresh offers a range of healthy meal options that are made with fresh and nutritious ingredients. You can choose from a variety of dishes that are specifically designed to be low in calories, high in protein, or free from allergens, making it easier for them to stick to their dietary requirements or goals.
Hello Fresh also offer WeightWatchers meals available for every order to help you keep to your WW diet. Additionally, Hello Fresh partners with local farms and producers to source high-quality ingredients, which ensures that the food is both healthy and full of flavour.
By using Hello Fresh, you can also avoid the temptation of unhealthy fast food or processed meals. By knowing you have your required ingredients and recipes ready for the day food delivery services can help you and your family make healthier food choices and maintain a balanced and nutritious diet.
5 Cost-effective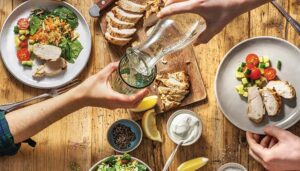 While the delivery fees and service charges seem like an additional expense, it's not always he case. Using food delivery services can actually save money in the long run by eliminating extra grocery purchases and waste. Not to mention reducing the times you eat out or ordering take-aways. Look out for offers, discounts and promotions, like the brilliant Hello Fresh offer via Raring2go! You can get 60% off your 1st box + 25% off for 2 months! Amazing! Try Hello Fresh Now!
6 Safe and hygienic
Some families are still anxious about food shopping, even though the pandemic is behind us. They exercise extra caution when they buy food and understandably so. Hello Fresh takes measures to make sure the ingredients they deliver to their customers are handled in a clean, hygienic and professional manner. These processes remain in place to this day so all Hello Fresh customers can order with peace of mind.
Hello Fresh is ideal if your life is hectic, or you're simply spending too much time on food prep. It's perfect if you'd rather spend time making memories (and delicious food!) with your family. So, why not try Hello Fresh today?