10 Spring Activities for all the family…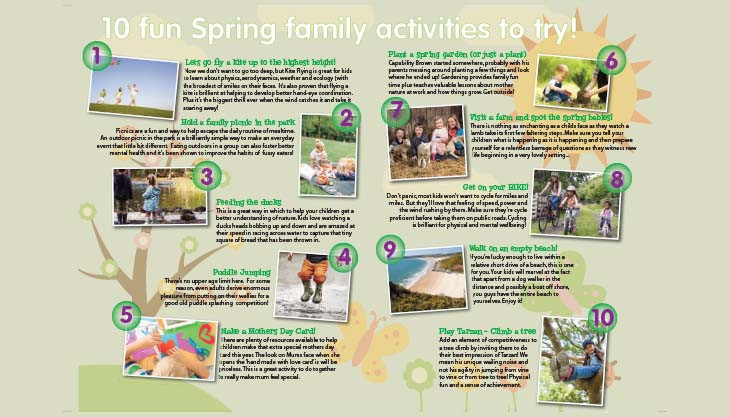 10 Spring Activities for all the family… From flying a kite to playing Tarzan, lots of ideas to have fun with the family this Spring!
Let's go fly a kite up to the highest height!
Now we don't want to go too deep, but Kite Flying is great for kids to learn about physics, aerodynamics, weather and ecology (with the broadest of smiles on their faces. It's also proven that flying a kite is brilliant at helping to develop better hand-eye coordination. Plus it's the biggest thrill ever when the wind catches it and takes it soaring away!
Hold a family picnic in the park
Picnics are a fun and way to help escape the daily routine of mealtime. An outdoor picnic in the park is a brilliantly simple way to make an everyday event that little bit different. Eating outdoors in a group can also foster better mental health and it's been shown to improve the habits of fussy eaters!
Feeding the ducks
This is a great way in which to help your children get a better understanding of nature. Kids love watching a ducks head bobbing up and down and are amazed at their speed in racing across water to capture that tiny square of bread that has been thrown in.
Puddle Jumping
There's no upper age limit here. For some reason, even adults derive enormous pleasure from putting on their wellies for a good old puddle splashing competition!
Make a Father's Day Card!
It will be here before we know it! There are plenty of resources available to help children make that extra special Father's day card this year. The look on Dad's face when he opens the 'hand made with love card' is will be priceless. This is a great activity to do together to really make Dad feel special.
Plant a spring garden (or just a plant)
Capability Brown started somewhere, probably with his parents messing around planting a few things and look where he ended up! Gardening provides family fun time plus teaches valuable lessons about Mother Nature at work and how things grow. Get outside!
Visit a farm and spot the spring babies!
There is nothing as enchanting as a child's face as they watch a lamb take its first few faltering steps. Make sure you tell your children what is happening as it is happening and then prepare yourself for a relentless barrage of questions as they witness new life beginning in a very lovely setting…
Get on your BIKE!
Don't panic, most kids won't want to cycle for miles and miles. But they'll love that feeling of speed, power and the wind rushing by them. Make sure they're cycle proficient before taking them on public roads. Cycling is brilliant for physical and mental wellbeing!
Walk on an empty beach!
If you're lucky enough to live within a relative short drive of a beach, this is one for you. Your kids will marvel at the fact that apart from a dog walker in the distance and possibly a boat off shore, you guys have the entire beach to yourselves. Enjoy it!
Play Tarzan – Climb a tree
Add an element of competitiveness to a tree climb by inviting them to do their best impression of Tarzan! We mean his unique wailing noise and not his agility in jumping from vine to vine or from tree to tree! Physical fun and a sense of achievement.
Here's wishing you lots of fun and games Raring2go! style this Spring!
Find other activity ideas here!