Review: Lightwater Valley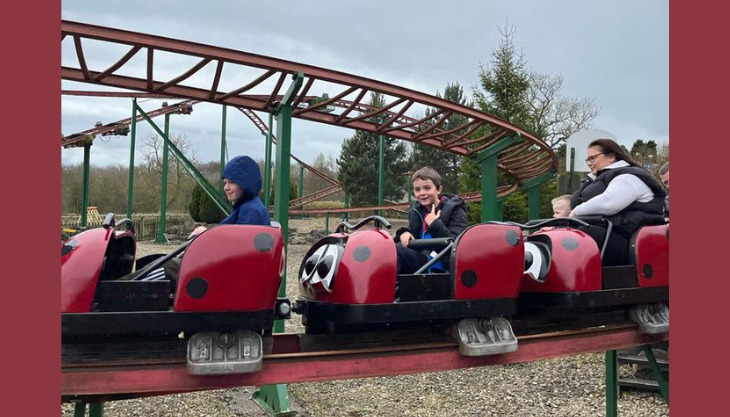 We arrived at Lightwater Valley on the second day of their 2023 season – a spectacularly grey day with a pretty good chance of rain. This didn't matter one bit, as the smiles and greetings we got from staff as we entered the park immediately brightened our day.
LWV's new dinosaur mascot Rex was near the front of the park looking suitably realistic, the park staff were brilliant in getting the little ones involved, one said, 'you look about snack size for Rex, maybe he'll eat you first!' which had the kids in fits of laughter.
A quick attempted stroke of his nose (being sure not to get too near his teeth!) then having spotted a certain ride above the trees and hearing the shrieks of laughter we were off to the Eagles Claw. My son has been waiting years to be tall enough to go on this, and he finally managed it, coming off feeling a bit dizzy but very proud of himself!
One of the brilliant things about the park is how many of the rides the kids can go on without adults – over a certain height, they are good to go. This gives them great independence and means that I get a quick sit down while watching.
We saw some amazing painted faces walking around, with some fabulous designs – but our main aim was to dash over to the skate karts! These were taken out a few years ago, but reinstated for this year, and I'm so glad they are back. Great for adults and children, these are classic 'old skool' fun and we spent ages on them.
A firm favourite in our family is the Ladybird rollercoaster, again the kids love piling on without us and it's just fast enough to be thrilling.
After some pottering around we grabbed some drinks and snacks (a good range around the park and fairly reasonably priced) and popped to the Safari area.
We didn't go to Treetop nets this time as it started raining, but this is another great element of the park – it used to be a separate set up with an extra price but is now included in the park admission price.
We had a great time, and will be back again for Easter as they've got Easter events on, and we didn't even manage to get to the UV disco or the sand art workshop!