Best UK winter walks from the Woodland Trust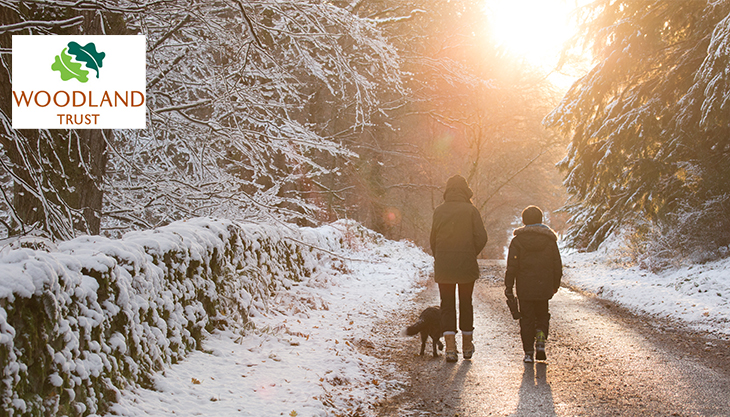 Are you dreaming of a green 2023? If so, you're not alone.
With the cost-of-living crisis biting, the Woodland Trust, the UK's largest woodland conservation charity, has come up with a guide to its best woods for a glorious – and completely free – winter walk for all the family to enjoy.
The Woodland Trust has more than 1,000 woods which are free to visit and open every day – so you're spoilt for choice.
This New Year is a perfect time to embrace the simpler things in life, whether that's time spent with friends and loved ones, enjoying nature's magnificent scenery or just getting outdoors and enjoying some fresh air.
Woodland Trust site manager James Jesson said: "Head out for a woodland adventure. Our woods are real winter wonderlands – so whether it's a crisp, frosty morning or a damp soggy afternoon, it's great to pull on your boots and thermals or waterproofs and head out for an invigorating stroll.
"Winter woods take on a whole new character. Spectacular, frosty landscapes and bare branches expose elusive wildlife and hidden history. The fact they are all free to visit is just the icing on the cake!".
Woodland Trust sites are open all year round so come prepared for nature in its natural state, unmissable views, clean air and birdsong. And by following the woodland paths, you won't disturb the winter wildlife and will allow nature to thrive in its woodland surroundings.
You can locate your nearest free woodland escape easily – just enter your postcode at  woodlandtrust.org.uk/findawood  or take a look at the Trust's pick of the best winter walks from around the UK.
CENTRAL
Archers Wood – Cambridgeshire
An ancient woodland haven nestling in an agricultural landscape, Archers is a real oasis for nature. Wander among majestic oak and field maple trees and watch carefully for a shy fox or deer in the distance.
Archers Wood – Visiting Woods – Woodland Trust
Londonthorpe Wood – Lincolnshire
Just a stone's throw from historic Belton House and neighbouring a wild deer sanctuary, Londonthorpe is perfect for a winter stroll. There are new all-weather paths and there's a mix of old and new woodland to explore.
Londonthorpe Wood – Visiting Woods – Woodland Trust
Tring Park – Hertfordshire
A 10-minute stroll from Tring's famous Natural History Museum, there are lots of hidden treasures to find at Tring Park. Climb the hill for amazing views of Hertfordshire and the Chilterns.
Tring Park – Visiting Woods – Woodland Trust
NORTH
Low Burnhall – Durham
An important haven for people and wildlife on the outskirts of Durham, Low Burnhall is a real beauty. Look out for signs of otters in the rivers which border the site and you might also spy owls, kestrels and sparrowhawks. Waymarked trails lead you past some interesting features – including a sculpture of a miner in a nod to the wood's historic coal mine.
Low Burnhall – Visiting Woods – Woodland Trust
Hackfall – Grewelthorpe, North Yorkshire
Set in a 350ft gorge along the River Ure on the edge of the village of Grewelthorpe this fragile ancient woodland habitat has been restored since the Woodland Trust took over. Stroll along footpaths and woodland walks and spot grottos and glades, temples and waterfalls as well as kingfisher, dipper and grey wagtail.
Hackfall – Visiting Woods – Woodland Trust
Smithills Estate – Bolton, Lancashire
The Woodland Trust's largest site is steeped in history and shadowed by the famous Winter Hill TV mast, with panoramic views across to Bolton and Manchester. You'll really be able to stretch your legs here in its vast expanses of moorland, patches of woodland and peat bog. Keep your eyes peeled for the elusive brown hare on the horizon.
Smithhills Estate – Visiting Woods – Woodland Trust
SOUTH EAST
Hainault Forest – London
Herds of majestic red deer roam this ancient hunting forest, which once provided venison for the King's table, and it's just 15 miles from central London. With 158 species of bird recorded, it's a bird-lover's dream.
Hainault Forest – Visiting Woods – Woodland Trust
Home Farm – Hampshire
Eight miles of pathway through this mosaic of old and new woodland habitats will tire out the most energetic Boxing Day walker. Look up and see if you can spot a red kite or a kestrel wheeling overhead.
Home Farm – Visiting Woods – Woodland Trust
Hucking Estate – Kent
Perfect for wintry family adventures, Hucking serves up breathtaking views of the Kent Downs, ancient woodland to explore and swathes of open grassland where the kids can run off steam. It's a must-visit in the South East – with a handy pub nearby for warming chilly toes.
Hucking Estate – Visiting Woods – Woodland Trust
SOUTH WEST
Avon Valley Woods, Devon
A hidden treasure in the rolling hills of South Hams, the Avon Valley Woods cluster along the valley side. Winter is a great time to spot a whole range of finches, blue tits and long tailed and great tits that tend to flock in large groups at this time of year. While the riverside walk can be muddy, the extensive path network at the top of the site offers grassy tracks and views across Devon.
Avon Valley Woods – Visiting Woods – Woodland Trust
Credenhill Park Credenhill, Herefordshire
Credenhill Park Wood is a local landmark on an imposing wooded hill, topped by one of the largest Iron Age Hill forts in England and thought to have once been an Iron Age tribal capital.
The walk to the top, where you can revel in views to Wales, is well worth it and when trees are bare, you're more likely to spot woodpeckers tapping the trees.
Credenhill Park Wood – Visiting Woods – Woodland Trust
Lineover Wood – Gloucestershire
A patchwork of ancient woodland, recent planting and limestone grassland creates a diverse haven for wildlife where rare plants and fungi flourish. The wood lies within the Cotswold Area of Outstanding Natural Beauty (AONB) and offers breathtaking views across Cheltenham and the Malvern Hills.
Lineover Wood – Visiting Woods – Woodland Trust
NORTHERN IRELAND
Carnmoney Hill
With awe-inspiring views of Belfast and the coast, Carnmoney Hill is a must visit. Steeped in history and folklore with a mix of ancient woodland, grassland and wetland, it is home to a wealth of wildlife and has a wide range of walks to suit all abilities. With easy access from the city and plenty of interest for history buffs, Carnmoney Hill is a great destination for a day out.
Carnmoney Hill – Visiting Woods – Woodland Trust
SCOTLAND
Crinan Wood, Argyll and Bute, Scotland
With sweeping vistas across Loch Crinan to Duntrune Castle and the Argyll coastline, there are few woods with a more breathtaking outlook than Crinan Wood. This ancient Atlantic oakwood is a wonderful example of Scotland's rare and special rainforest and is brimming with wildlife, including the iconic red squirrel. It's definitely one of our must-see gems.
Woods – Visiting Woods – Woodland Trust
WALES
Wentwood Forest
Once part of the hunting grounds of Chepstow Castle, Wentwood offers walks with breathtaking views over the Severn Estuary. Its diversity of habitats means it is home to some wonderful wildlife. Make sure to visit the ancient Curley Oak while you're there!