Review: Yorkshire's Winter Wonderland at York Designer Outlet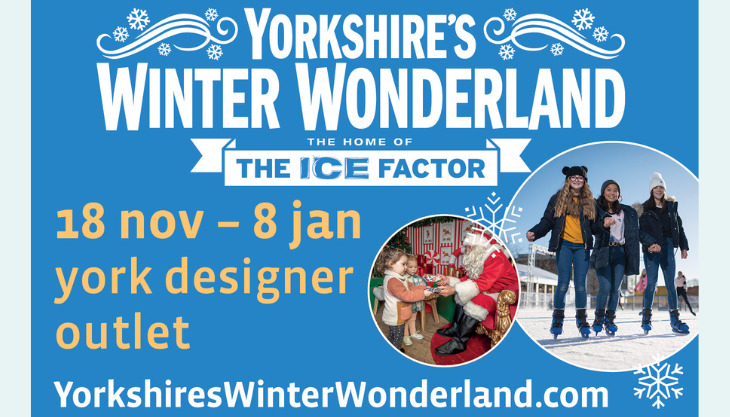 We are regulars to Yorkshire's Winter Wonderland, having attended every year that it has been running, since 2018 but we have always been during the day. So, this year we decided to visit late afternoon, to see what the experience was like in the dark!
Arriving on a Saturday at 4.30pm we expected it to be busy, and it was – but what was really impressive was the smooth process for getting our wristbands, putting our bags away in the cloakroom and swapping our shoes for skates. We queued for our wristbands for no more than a minute, and then popped over to the cloakroom window where there was no queue at all. Extra baggage safely deposited with them, we headed over to have a quick look at the ice rink before we got our skates. It looked beautiful! The large tree in the middle was decked out with twinkling lights and coloured lights flashed on and off like an icey disco. There was a totally different ambience, while still having a family focus, feeling a little like a disco and a lot like après ski in an alpine village.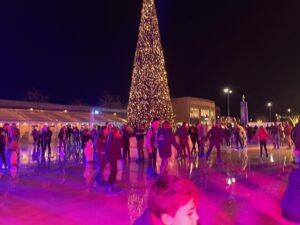 When getting skates we needed to enter at the back, which worked really well, as the group before us exited from the front, making a very effective one way situation. We got our skates very quickly and the staff were helpful and polite. Remember to take an extra pair of socks – plastic skating boots are not built for warmth or comfort! We also took gloves, which are a must – if you happen to hit the deck, the ice is (unsurprisingly) cold – but this time it was also super wet. You definitely have a different ice experience later in the day, as the ice does warm up throughout the day, especially if the weather is mild. There was a film of water over the top of the ice which meant that anyone falling over got very wet, so one of our kids went home with soaking trousers – but it really doesn't matter. It's only an hour and getting a bit soggy doesn't curtail the enjoyment at all.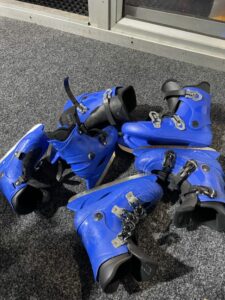 A tip would definitely be to hire a snowman skate aid if at all possible, we had them and they made such a difference to the children's confidence. It meant that we didn't have to stick to the side like so many people, and it also saved our backs as we didn't have to hold the kids up going round.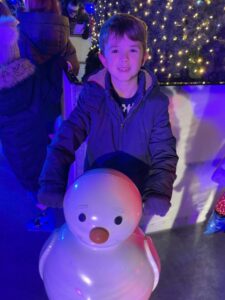 Once we had had our fill of skating, we strolled over to the funfair and got some tokens for rides and games. Each ride and game is one token, which is great – the kids went round and assessed which rides and games they fancied doing, and got to it. There are a range of games of different skill levels, from hook a duck (prize every time) to ping pong ball bouncing into a cup. Lots of fun and lots of cuddly toys were won. A quick go on the chair-o-planes and the Speedway, and we had worked up an appetite for a snack.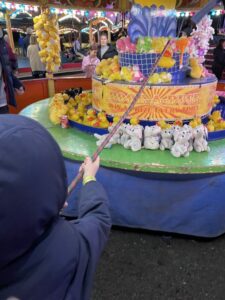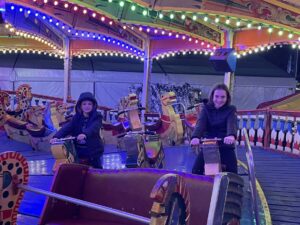 Here's where we went wrong – we should have popped into the Alpine café as we usually do, but decided to go to the food court Designer Outlet for something more substantial. Unfortunately for us we hit it at peak (tea) time and the queues were really long for all types of food. Subway had even run out of bread! Lesson learnt, and with a bit more planning we could have avoided the queues by eating first.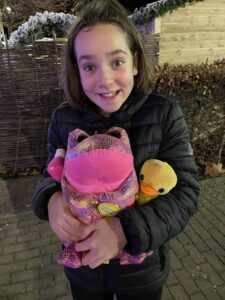 We have always had such a positive experience at Yorkshire's Winter Wonderland and this year was no exception. In fact, I think the time of day and skating in the shadows made it one of our favourites.
BOOKING
Book your tickets to attend Yorkshires Winter Wonderland here! 
For your chance to win a family of 4 ticket , head over to enter our competition here! (entries close 1/12/22)