Review: Lightwater Valley Hocus Pocus Half Term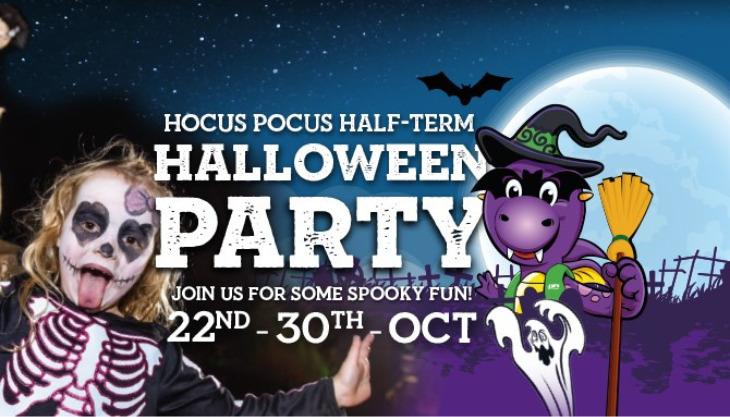 One of our reviewer families have been to Lightwater Valley Hocus Pocus Half Term this week, and here's what they had to say!
"Confession time; I haven't been to Lightwater Valley Theme Park for about 20 years, despite only living down the road in Ripon.  After working in the shopping village as a teenager (which is no longer there) I just never returned! I think often when things are on your doorstep, you become a little complacent with them and forget they are there, it's only when they suddenly aren't that you miss them!
Well things have certainly changed since my day, and now LWV is a family day out, aimed at the under 12's which is perfect for my wildlings who are almost 5 and 7 ¾ !
We visited for the Hocus Pocus Half Term event (running until 30th October) and when I say we were blown away by it, I really mean it! Grandma came with us so that if one didn't want to go on a ride, it didn't mean none of us could, so we had 3 generations with us. I didn't expect I would get my mum on any rides, but I think she actually ended up on more than me!
We arrived just before 12 as we weren't sure how busy it would be so decided not to arrive for opening. We managed to get parked and straight in so it was obviously a good time of day for us to arrive, however in hindsight, we wish we had arrived early as we were there until the place closed and could have spent so much longer.
LWV is decorated for Halloween from the moment you go through the gates, and they have really done it well. Even some of the dinosaurs at the golf had decorations on them! The music playing throughout the park is also (subtly at times) themed to Halloween too. There are interacting staff dotted all over the place who are dressed brilliantly! We had the Sanderson sisters, some monsters, even a corpse bride, and they were all really happy to pose for photos. There are props a plenty and lots of insta worthy photo opportunities.
Our first stop was the Spooky Magic Show. You have to catch this, it's brilliant. Make sure you arrive early for this (about 10 minutes I would say if it's a good weather day) as it was packed for every single show. It's so funny, and I'm still trying to figure out how Libby fit in that box…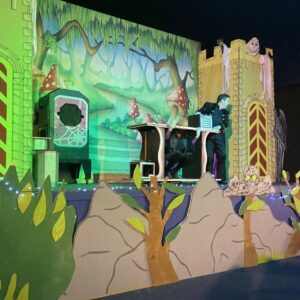 The rides are great, each one has clear height guides and there are some more suited to older children and some more aimed younger ones (although please don't go expecting the ultimate or the rat). Grandma and I had a great time on all of them!
The absolute highlight for us though is the Trick or Treat Trail. For £5 you can purchase a bag (available from info centre and at points around the park) and then you go around the park to certain places to collect a stamp and a treat! The items you receive are absolutely worth it. The boys LOVED doing this but just beware, they get a lot of sweets and our littlest was on a bit of a sugar high at one point! They also got items such as joke teeth, Halloween themed stationery set, pick n mix, glow sticks, puzzle book, snap band and more sweets. It was brilliant.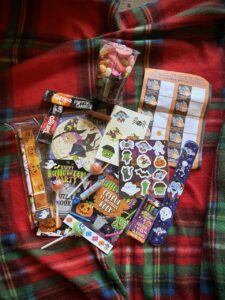 The Wicked Witch Trail is a lovely break from rides, and really peaceful. If you fill in your trail sheet and drop it back at the entrance you can win tickets for next year. The trail is next to the tree top nets which looked great fun (included with your ticket price) although we just ran out of time to have a go unfortunately.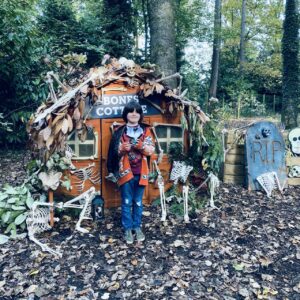 Each day there is also a Monster Mash UV disco, face painting, a fancy dress competition and more, you really can spend a full day here.
There are offers available to get food at LWV with meal deals available which is a great idea. On this occasion we took a picnic as we already had dinner plans for the evening, but the food looked great. There are so many places to stop for a picnic though.
From Grandmas point of view, she was genuinely surprised at how much she enjoyed herself! She was amazed at what beautiful surroundings the park was in, how clean it was and how brilliant all the staff were.   We also discovered she's pretty good at miniature golf, which I don't think any of us were expecting, least of all her!
The boys are already asking if we can go back next year and take Grandad and Daddy with us too; I sense a big family day out coming up!"'
It sounds like they had a great time! Don't forget, if you are booking to go to Lightwater Valley this half term, you can save a whopping 15% on standard tickets using the code 'R2G15' when booking!