Belgrade Theatre launches Theatre Hubs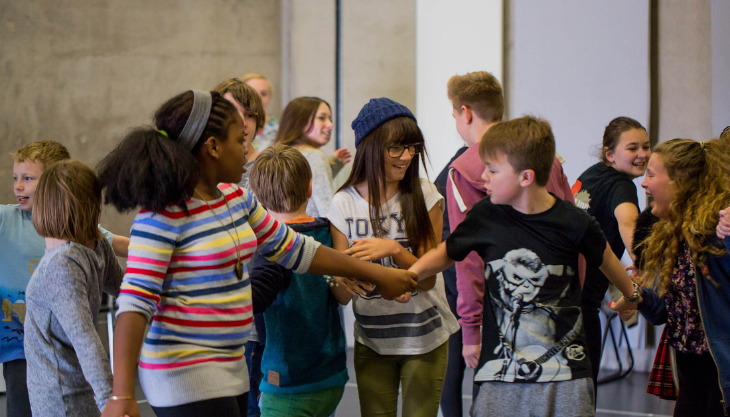 The Belgrade Theatre is delighted to be launching their brand new Theatre Hubs. The weekly workshops will give participants the opportunity to work as part of a company to make a piece of original theatre inspired by a major show in the Belgrade's programme.
There are four groups that participants can join: 8 to 11 years (Primary School), 11 to 16 years (Secondary School), 16 to 25 years (Key Stage 5+) and Over 50s. The weekly workshops run during term time, with additional rehearsals in the lead up to a show in July.
Participants will learn skills, explore new and different forms of theatre, explore career opportunities within the arts, gain access to the inner workings of a regional theatre and work with other young people and professional artists to make a high-quality piece of theatre.
As a valued member of the Belgrade family, participants will get a free Belgrade Youth Theatre t-shirt, free tickets to home produced and co-produced shows, discounts on tickets to other shows, 10% discount at the café, and invites to exclusive events including talks, VIP nights, Q&As and workshops.
The annual membership fee is £200, with free bursary places available for members on a first come, first served basis. The annual fee can be paid on a term by term basis (£67 per term).
To be eligible for a bursary, participants must have signed up to the Belgrade Theatre database and have been accepted into a group, and they must fulful one or more of the criteria specified in the sign up process. Bursaries have been made available for those who would not be able to access the Theatre Hubs otherwise.
The sessions run as follows:
8 – 11 Years (Primary School)
From Mon 31 Oct
Running Mondays, 5pm – 6.30pm
11 – 16 Years (Secondary School)
From Wed 2 Nov
Running Wednesdays, 6.30pm-8.30pm
16 – 25 Years (Key Stage 5+)
From Tues 1 Nov
Running Tuesdays, 7pm – 9pm
Overs 50s
From Mon 31 Oct
Running Mondays, 11am – 1pm
The Belgrade's Theatre Hubs begin from Mon 31 Oct. Information on how to register can be found at www.belgrade.co.uk/projects/theatre-hubs/.