Local YA Author Releases Second Book in 'Rules for Vampires' Series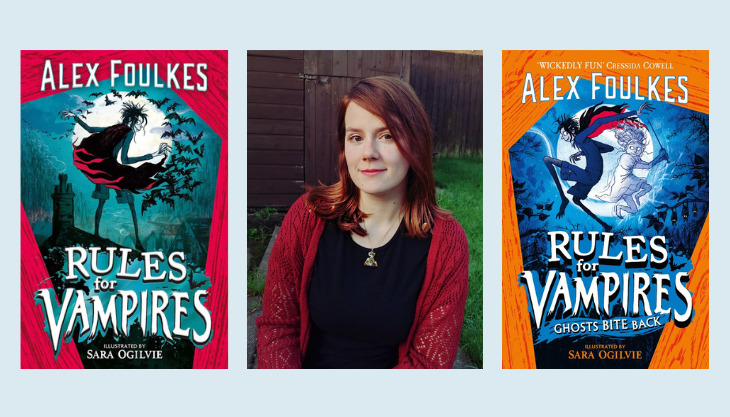 Young adult author Alex Foulkes, has just released her second novel. 'Rules for Vampires: Ghosts Bite Back' is the hotly-awaited second book published by Simon & Schuster; perfect for a spooky Halloween read! Raring2go! Editor for Burton and Ashby Alice Johnson caught up with Foulkes, who is from Stoke-on-Trent in the Midlands. Read our Q&A below and click here to win one of five sets of 'Rules for Vampires' and 'Rules for Vampires: Ghosts Bite Back'!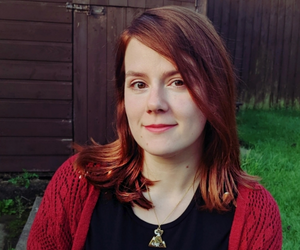 Q: Congratulations on the launch of your second YA novel! Tell me about what adventures Leo and Minna get up to in 'Ghosts Bite Back'.
A: Thank you so much! I'm so excited for everyone to join Leo and Minna again, as the ghostly activity in the Dreadwald didn't end with book one! In 'Rules for Vampires: Ghosts Bite Back', Leo finds herself summoned to the Ghostly Realm to stand trial for the death of the wicked Orphanmaster. Unfortunately though, this happens on the night of the Blood Moon Banquet, which is a VERY fancy vampire event being held at Castle Motteberg this year. Leo must separate her body and her soul to venture to the Ghostly Realm with Minna, and return before Lady Sieglinde – her evil, powerful vampire mum – finds out she's missing.
Q: Does 'Ghosts Bite Back' follow on from the first 'Rules for Vampires' book?
A: It does indeed, though new readers to the series can easily start with this one if they prefer! My recommendation is to get them both. Though I am biased, 'Rules for Vampires' and 'Rules for Vampires: Ghosts Bite Back' go really well together. They look great on the shelf together, too.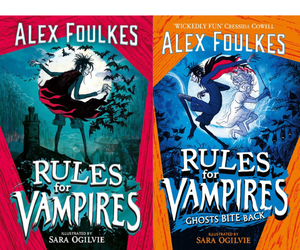 Q: How does Minna develop as a character?
A: Minna is a really important character in 'Rules for Vampires', and she's absolutely at the heart of the story again in Ghosts Bite Back. We're meeting a Minna this time who is figuring out what it means to be a ghost, really honing her abilities and finding her place in this new world. It isn't easy for Minna, to say the least, and she has a lot of self-doubt. For Leo's part: it can be really hard when your friend is going through something that's totally different to everything you know. Ghosts Bite Back is really about Leo learning to properly understand what Minna's life (or lack thereof) is like, now that she's a ghost.
Q: How long did it take you to write the second novel?
A: It took about six months to write. A year to get everything polished up – plus Sara Ogilvie's fangtabulously spooky, funny and heartwarming illustrations added – all put together and ready to go.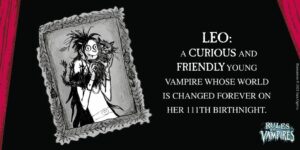 Q: What kind of feedback did you have from young readers on the first book?
A: The response to 'Rules for Vampire's as a new series has been really overwhelming! As a new author I'm really keen to receive feedback. It's been so lovely to see young readers enjoying these characters and this world. My hope writing them was that readers might imagine that they are Leo and Minna's friend, having adventures in the Dreadwald. The letters and drawings I've received seem to tell me just that! I do cry a lot. I'm quite a soft person and it makes me so happy that something we've worked so hard on has been so well-received.
Q: Is this the start of a series of novels?
A: We're never saying never for a book three in the Rules for Vampires series! If readers would like this, spreading the word about these books would definitely help to make this happen. Asking a grown-up to leave a rating online with Waterstones and/or Amazon is also a way to support me. In addition, writing a letter to the children's books team at super publisher Simon & Schuster in London… I'm just kidding. But I love to receive letters! Anything you send to S&S will reach me eventually. I always write back.
Q: What's next for Minna and Leo as characters?
A: I just HAVE to write more. I'm currently working on an extremely exciting new adventure, where Leo and Minna will be sent off to fancy vampire boarding school! Imagine a place where you learn both manners and vampire combat. It's already looking HUGE and so exciting! Maybe one day in the future, it will make it onto the shelves?
In the meantime, I have a new project in the works that I'm hoping I'll be able to talk about very soon – because I can hardly keep it in! I'm also continuing my journey in developing my visits to libraries, bookshops and (my favourite!) schools. If anyone would like a school visit where we get VERY VAMPIRIC all year round, please get in touch. I would love to meet you!