Review: Girl from the North Country at York theatre Royal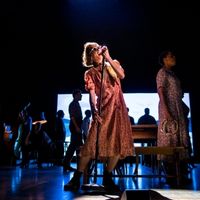 We love seeing new shows at York theatre Royal, particularly new musicals and plays. This is a new musical, but it is definitely no Bob Dylan sing-a-long. From the opening number it is absolutely clear that this is a play with music. The play itself is written by Irish playwright Conor McPherson and is set in Duluth, Minnesota during the Great Depression. A difficult and emotionally draining subject that leads to many poignant moments and a cast of characters for whom life is very, very hard.
That being said, this is not a musical tinged with darkness or sadness throughout. There are funny moments, joyous moments and some fantastic whole cast celebration scenes in which the many stories within the play intertwine.  Bob Dylan's music sounds beautiful and the voices of the cast soar in an incredible soulful way through the harmonies.
We are introduced to an array characters, from the guest house owner, Nick, who is struggling to make things work following his estranged wife developing early onset dementia, to some of his guests, including a somewhat shady family with their grown up son. Occasionally it was hard to keep track of the intertwining stories, because the tales were woven in-between bursts of song and music. The songs, though beautiful to listen to, often added little to the story and instead evoked an overall feeling of the thoughts, hopes and fears of the characters.
Each character feels like they have a fully-fledged story of their own and every one of the stories could come straight from a Bob Dylan folk song. It is truly beautiful, but I didn't feel the music and the script always worked together.
I could have listened to the beautiful songs all night, and I could have watched the play and been fully consumed by the narrative, but I struggled to combine the two together.
One truly outstanding performance came in the form of Frances McNamee, who played Elizabeth, the estranged wife of Nick. She switched subtly between her character getting lost in her memories and being in the present, from saying incredibly insightful, lucid things to disappearing into her own world completely. Coupled with a fantastic soulful voice, Frances stole the show and I couldn't take my eyes off her when she was on stage.
The odd, slightly jarring number appeared on occasion. Straight after learning about one character's death, for example, we were then subjected to that character dancing in a white tux in front of a projection of a field and a kitchen unit. It was probably highly conceptual and over my head, but it took me out of the 'realness' of the struggle
Overall, this is a musical that is well worth watching if you like Bob Dylan songs, or well-written plays that focus on real historical periods and dynamics between small groups of people. It is not, however, a musical that will leave you tapping your foot, clicking your fingers, singing along or remembering any of the songs. No ear worms here!