Two Major Tourism Accolades for Hereford Cathedral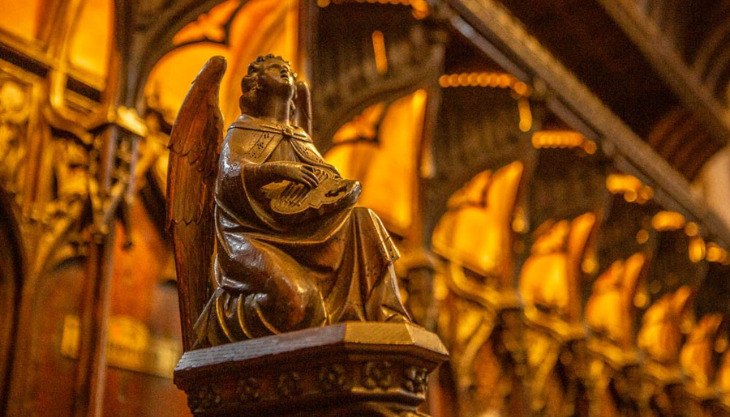 Trip Advisor gives two accolades for Hereford Cathedral.
Hereford Cathedral is delighted to have received two accolades from the tourism industry for its services to visitors during 2022.
Global travel website Tripadvisor has recognized the Cathedral as a 2022 Travelers' Choice award winner. The award celebrates businesses which have received consistently positive reviews on Tripadvisor over the last twelve months, and identifies Hereford Cathedral and its Mappa Mundi & Chained Library Exhibition as among the top 10% of visitor attractions worldwide.  Challenging as the past year was, Tripadvisor cited Hereford Cathedral as standing out in delivering positive experiences to visitors with its welcome, its guided tours and the Cathedral Café.
"Congratulations to the 2022 Tripadvisor Travelers' Choice Winners," said Kanika Soni, Chief Commercial Officer at Tripadvisor. "The Travelers' Choice Awards recognize the best in tourism and hospitality, according to those who matter most: your guests. Ranking among the Travelers' Choice winners is always tough — but never more so than this year as we emerge from the pandemic. Whether it is using new technology, implementing safety measures, or hiring outstanding staff, I am impressed by the steps you have taken to meet travellers' new demands. You've adapted brilliantly in the face of adversity."
Shortly after that, the Cathedral learned it had also been shortlisted as one of six finalists for Best Historic Attraction or Venue in this year's Group Leisure & Travel Awards, confirming its position as one of the leading destinations for group tours and excursions in the country. The overall winner will be announced in early October.
Owen Towndrow, Visitor Engagement Officer at Hereford Cathedral, is delighted; "our volunteers and staff at Hereford work so hard to make sure visitors enjoy their visit, whether they are learning about the cathedral's history, being wowed by the Mappa Mundi and Chained Library, climbing the tower for amazing views or just enjoying a coffee or lunch in the Café.  A lot of work goes into making sure our visitors, whether on an organised tour or just walking in, feel welcome from the moment they step into the Cathedral, and it is wonderful to be recognised in this way."
Read more about Hereford cathedral on the Raring2go! website here, or visit the Hereford Cathedral website here.