Roarr Summer Offer & Special Roarrstock event!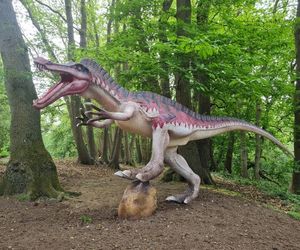 With the school holidays roaring along, and parents searching for ways to entertain their little raptors, a local favourite is helping with a summer bounce-back offer.
All visitors who enjoy a Jurassic family day out at ROARR! will receive 50% off their return visit up until Monday 5th September, by purchasing return tickets at the Base Camp Sales and Supplies shop or Guest Services*.
With over 25 dino-themed attractions, from Dippy's Raceway for the little racers, and the adrenaline-inducing Predator High Ropes as adventurers scale new heights – to X-Tinction where budding explorers can discover dinosaur bones hidden in the sand, the fun never stops at ROARR!.
Ben Francis, park manager at ROARR! said: "We always want to give more back to our guests and provide parents and grandparents with action-packed yet cost-effective ways to entertain the children this summer, and we hope this new bounce back offer is a welcomed treat for the school holidays.
"We know parents want their children to enjoy the summer holidays and make the most of their time away from school, so being able to enjoy another memorable family day out at ROARR! for a fraction of the cost is our little treat to families this month.
"We also pride ourselves that everything is inclusive here at ROARR! with no hidden surprises – we even have indoor and outdoor picnic areas so families can bring their own food. Our guests don't have to pay anything extra to access our attractions and even the family photo from the magic mirror in Valley of the Dinosaurs is included in the price."
To add to the summer fun and following the return of its award-winning Dinos at Night over a month ago, ROARR! has now released tickets for ROARRSTOCK – a new dino-themed festival across two days and two nights.
Perfect for ROARR-some family fun, the festival will bring the velociraptor vibe on both Friday 26th and Saturday 27th August featuring live music, arts and crafts, face-painting and a storytelling tent so little dino-hunters can let their imaginations run wild.
Budding musicians can try their hand at samba drumming and the rest of the family can enjoy animal encounters, garden games plus a range of delicious street food. During the evening event, there will be scenic twilight tours across the Park – including the Valley of the Dinosaurs where prehistoric creatures come alive – and cupcake decorating as well.
Visitors can also enjoy ROARR!'s usual attractions** during their time at ROARRSTOCK from getting drenched by the big tipping bucket at Dippy's Splash Zone and joining in the excitement at Dippy's Theatre, to taking on Jurassic Putt Crazy Golf in this dinosaur-themed crazy golf course.
Pre-booked tickets to ROARRSTOCK during the day from 10am to 5pm are £20.95 for both adults and children over 90cm. Children under 90cm are free. ROARR! Park tickets for the day do not need to be purchased as well.
Pre-booked tickets for ROARRSTOCK in the evening from 6pm until 9pm cost £9.95 for both adults and children over 90cm. Children under 90cm are free.
Pre-booked summer tickets to ROARR! are also £20.95 for both adults and children over 90cm. Children under 90cm are free.
For further information about ROARR! and to book tickets, please visit the website: www.roarrdinosauradventure.co.uk, or the park's Instagram, Twitter or Facebook pages.
*Return tickets must be booked before 5th September and can only be booked on the day guests visit the Park. Terms and conditions apply.
**Please note, the bottom of the park including the Secret Animal Garden and Predator High Ropes will be closed during the evening ROARRSTOCK event.