Great Ryedale Maze review!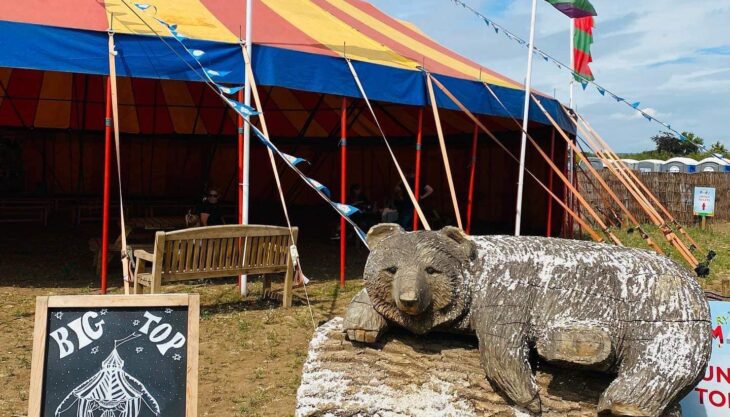 "We had the loveliest time visiting this little gem that we didn't know was there!
Situated about half way between Malton and Scarborough, it was a really lovely drive out, up Sutton bank over through Helmsley – we planned on stopping at both places on the way back, but little Mouse had REALLY bad car sickness (any tips, please let me know!) so we took the main road back via York instead.
Anyhow, back to the maze! This year the maze is in the shape of a HUGE dinosaur, but there is also a smaller Dino maze for little ones.
We arrived just before lunch time, and decided to grab a bite to eat and watch the upcoming magic show in the big top. The food was yummy and the service was quick and friendly! There is also the option to bring your own picnic in too.
The magic show in the big top was a HUGE hit with our boys, they couldn't stop laughing. He does 3 shows a day I think, and there's plenty of benches and spaces to sit and eat while watching. (There's also plenty of loos behind the big top which were a must after our eventful journey…)
Next we hit some of the rides; all the fairground rides are included with your entry ticket which is a massive bonus and a refreshing change to this kind of event (except the prize winning games such as hook a duck – you buy tokens for these for £3 each).
Then onto the maze itself! The boys had a fab time navigating their way around, and our eldest did brilliantly reading the quiz questions (which for a reluctant reader is great!) . It started to drizzle while we were in the maze; but that didn't stop us!
After finishing the maze, it was back out for more rides, a couple of rounds of hook a duck , and donuts for the journey home!
We spent about 3 hours here, but could have spent longer if we had wanted to more ride or do them again!
Top tip: don't wear white shoes or sandles ideally, the ground in the maze is VERY fine and our feet and ankles were filthy after
(mainly thanks to the kids not picking their feet up walking through
)."