Hereford Cathedral Gardens Open Days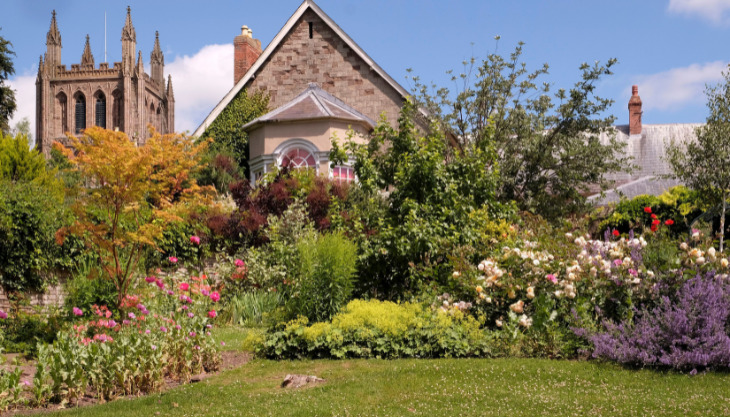 EXPLORE THE CATHEDRAL'S PRIVATE GARDENS THROUGHOUT THE SUMMER
 On Saturday 25 June, the exquisite private gardens of Hereford Cathedral will be open to the public as part of the famous, yellow-signed National Garden Scheme, exhibiting usually private gardens for charity. The Cloister Garden, Canons' Garden, Chapter House Garden and the four acres of the Bishop's Palace Garden will all be open to visitors, with the proceeds going to charity. Details may be found on www.herefordcathedral.org/Event/ngs-garden-opening, or through the National Garden Scheme website ngs.org.uk.
Jess Stallwood, Events Officer, explains: "we are delighted to join once again the nationally-recognised National Garden Scheme. If people cannot make that date to visit the gardens, the team at Hereford Cathedral is pleased to offer garden events throughout the year, giving the public a chance to see the gardens as they bloom and develop through the seasons. Most of the Cathedral gardens are private, so an opportunity to see them is a must for both locals and visitors from further afield; they are some of the most popular days in our calendar."
The Cathedral's garden events run between May and September, with walk-up Garden Tours available every Wednesday at 11.30 am, and on Saturdays at 2.30 pm. Tickets cost £6, and can be purchased on the day from the Cathedral Shop. Expert Garden Guides will lead visitors on each tour, explaining the history, planting and special features of the various gardens. Further information can be found on the Cathedral website www.herefordcathedral.org/garden-tours
For those preferring a more informal approach, the Cathedral's Open Gardens Days on 6 July, 27 August and 7 September are very popular, when visitors can simply drop in at any time between 10 am and 3 pm. Visitors explore the gardens with the help of a guide leaflet, and some of the justifiably proud volunteer gardeners who maintain them are available for help and advice. Tickets cost £5 and may be purchased in advance on the day from staff based at the entrance to the Cloisters, or via the Cathedral website https://www.herefordcathedral.org/news/open-gardens2022. For further information please email events@herefordcathedral.org , or call 01432 374 251.
Private tours of the gardens may also be booked for group visits; please do not hesitate to contact visits@herefordcathedral.org or call 01432 374 202.