School dinner style sprinkle cake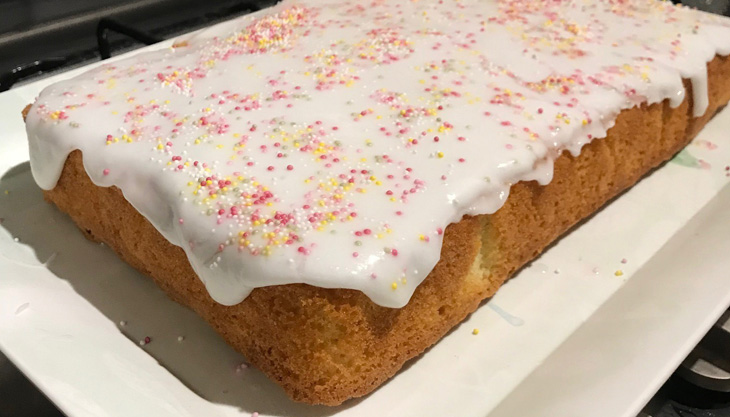 Ingredients
For the cake
200g  butter or baking spread
175g  caster sugar
200g self raising flour
1 teaspoon vanilla essence
3 eggs
For the topping
300g icing sugar
Sprinkles/hundreds and thousands
Around 3 tablespoons of warm water
Method
1. Grease and line a 20cm x 30cm (8 inches x 12 inches) baking tray.
2. Pre-heat oven – 160°C, fan oven 140°C, 325°F, gas mark 3.
3. Put the butter (at room temperature) or baking spread in a bowl with the caster sugar and mix with a spoon, hand-mixer or food processor until light and fluffy.
4. Add the eggs one at a time mixing between each egg.
5. Add the vanilla essence and the flour and mix together gently by hand or on a low setting with your mixer.
6. Pour into the baking tray.
7. Bake for 45 mins until golden and the sponge springs back when you lightly press the top.
8. After 30 seconds remove the cake from the tin. To get a smooth surface on which to spread your topping, put the cake top down on a rack to cool bottom side up.
9. Prepare your topping. Sieve the icing sugar into a jug and add the warm water a tablespoon at a time until you get a thick pouring consistency.
10. Pour across your cake then add on your sprinkles/hundreds and thousands.
11. Cut into squares and enjoy with or without custard.