Five Fun Indoor Activities for Kids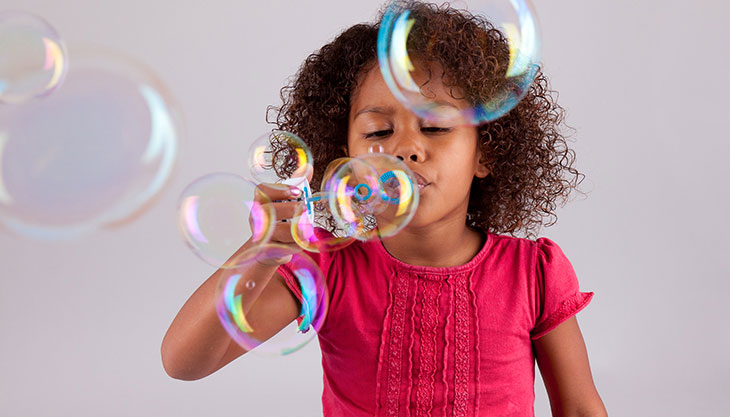 Children often have plenty of messy play ideas for outside in the mud and rain, but the challenge lies in encouraging them to be creative and use their imagination for activities they can play inside too…
It can be difficult to drag the kids away from the television set and encourage them to make the most of a rainy day cooped up indoors. Children often have plenty of messy play ideas for outside in the mud and rain, but the challenge lies in encouraging them to be creative and use their imagination for games and activities they can play inside too. Here are five fun suggestions to get you started:
1. Indoor Obstacle Course
Help burn off some of that excess energy with an indoor obstacle course. From crawling under chairs and throwing a beanbag into a laundry basket, to completing 10 star jumps and walking a DIY balance beam, always design your indoor course with your child's age and ability in mind – also adapting it to the size of your house and number of children taking part.
2. Junk Modelling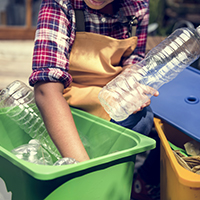 Start recycling your old toilet rolls, tissue paper, glass milk bottles, jam jars and unwanted €˜junk' for a craftbox sure to challenge and inspire your child's imagination! It's a wonder what a little sticky tape, coloured pens and glitter can do, and your child will have no end of fun transforming that empty cereal box and tin foil into a metallic robot or that old coat hanger into a beautiful dreamcatcher. When it comes to messy play ideas, two heads are better than one and you can even take turns with other parents holding junk modelling parties to give you all a day off.
 3. Hallway Hopscotch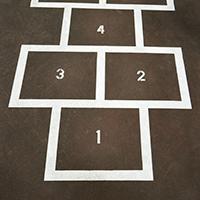 Every child knows how to play hopscotch and there's no reason to stop them enjoying their favourite playground games just because they're stuck indoors. Simply mark out the traditional pattern of nine connecting squares with masking tape and leave your child to hop to it. Hopscotch is not only brilliant in its simplicity, but it can be played by multiple players or alone, requiring minimal space and resources.
 4. Indoor Golf
Get your kids into the swing of indoor play with a game of newspaper golf. First roll up a stack of old newspaper sheets and securely tape them together to make your golf clubs. Now you need some €˜holes'. You have two options here: either lay down some plastic cups on their side and tape down, or simply mark out some circles with tape directly onto the floor. Players must now take it in turns to roll the ball with their newspaper clubs into the hole, in the fewest number of hits.
5. Blowing bubbles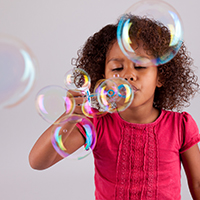 There are some messy play ideas that are worth that extra bit of cleaning up, and blowing bubbles is definitely one of them. Children love to create bubbles and their smiles as they create a series of interconnecting giant bubbles will be priceless. It's also incredibly straightforward, and simply involves a dinner plate with a coin-sized drop of washing-up liquid in the centre. Slowly pour a little water onto the soap and gently mix until soap suds start to form. As your child blows through a straw into the mixture, giant bubbles will begin to form like magic before their very eyes. What's even better is that because you're only using soap and water – half the job of cleaning up is done before you've even started!