How to Make Your Child's Room Healthier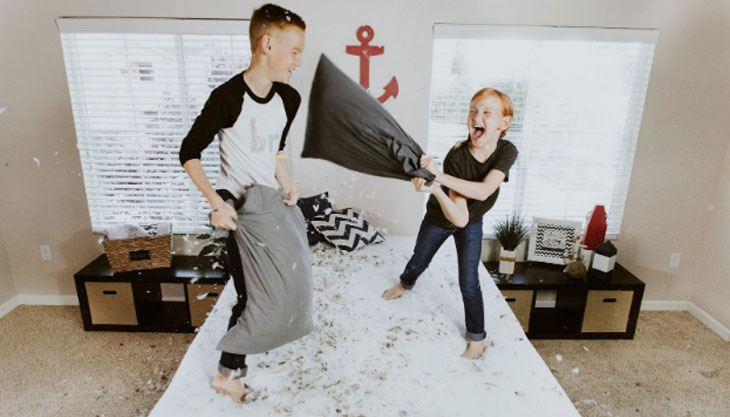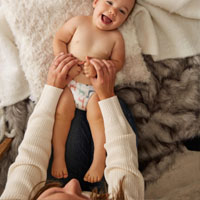 For parents, it's important to make sure their child is as healthy and happy as they could be from the earliest age. Since we spend more and more time indoors, much more thought is given in designing and furnishing the child's room, as the environment where kids sleep, play, and learn. The kid's room should be healthy, loving and safe, but also include features that stimulate their curiosity and imagination. Here's a short guide on how to make the room your ally in bringing up a healthy child.
Curb excessive lighting
Toddlers have less skin melanin and fewer functional sweat glands, and direct UV light can be harmful to their developing eyes. For a nursery, indirect sunlight is the best option, because it still provides light in the full visible spectrum, but without negative effects. The American Academy of Paediatrics recommends that infants less than six months old aren't exposed to direct sunlight at all. They recommend blinds or louvers as window treatments as they shut out more lights and noise than drapes, are easier to clean. Aluminium or wooden slats that are untreated or finished with water-based coatings are better than vinyl slats that may off-gas VOCs (volatile organic compounds). Fabric curtains may also off-gas VOCs or PBDE (polybrominated diphenyl ethers) which are used as flame retardants, but more importantly, may absorb pollutants and attract dust which negatively affects air quality.
Use safe materials
The key to a healthy and inspiring kid's room is to make it a place where adults like to spend time as well. This means including design elements, architectural details, interesting colours, and furnishings, as well as comfortable fabrics. Children are often far more visually sophisticated and aesthetically sensitive than we may think. In addition to being earth-friendly, natural materials are also child-friendly. All-cotton rugs are resistant to mildew and clean up easily, which makes them healthier for children than carpets or carpet tiles which contain VOCs both as the adhesive and flame retardant. Washable floor and furniture coverings are important for children who are more prone to allergic reactions from chemicals, mould, dust, and dander. For the floor itself, choose cork which isn't only hypoallergenic, but has a low static surface, so it resists dust and pet hair and can withstand moderate moisture. Cork is also much softer underfoot than hardwood or laminate, which makes crawling more comfortable for kids.
Provide ventilation and fresh air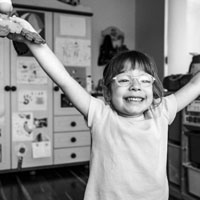 Fresh air is important for a kid's room where there's a constant flow of toys, gadgets, clothing, books, etc. Monitor the air quality frequently and open the windows as needed. Since according to the Asthma and Allergy Foundation of America more than 50 million people suffer from nasal allergies, protect your kid from an early age with an air purifiers for allergies. When shopping for purifiers, you want to look for those with a high-efficiency HEPA filter to catch microscopic airborne particles such as dust, mites, pollen, mould spores, pet dander, and tobacco smoke. Your kid's room should also have a means of removing airborne contaminants and prevent excessive moisture in the air, which can give way to the growth of allergenic mould. Install a window or ceiling fans to move air throughout the room. The fan should be small and quiet enough to be left on all the time without creating droughts, especially if there are new materials in the room that need to off-gas.
Give it personality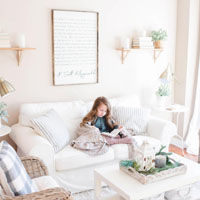 While the furnishings in your room should be somewhat scaled for kids, it doesn't mean they have to live in a plastic Barbie house. For example, by modifying, i.e. chopping off a few inches off the legs of a full-size table, you can make a nice wooden kid-height table for them to draw, paint or get creative with their Legos. A wooden garden bench can also be cut down a few inches, just enough for little ones to hoist themselves up into the comfy cushions, but not so low as to make sitting difficult for the granny who comes to visit. Consider salvaged materials as well. Not only can you begin to teach your kids the importance of reusing things but they can also give their room a unique personality. Distressed painted furniture looks both fun and elegant, just make sure to seal it with water-based clear topcoat so the paint doesn't chip. To give the room a more airy feel, instead of omnipresent primary colours, consider nature-inspired shades like water, sky, stone, or sand.
Open the space up
Jammed closets and drawers, beds with boxes, shoes and other items underneath must be cleaned out. By creating a space of visual openness, you help your kid alleviate the pressure and be more imaginative and creative. When it comes to kids, more is definitely not more, so give them a visual openness and store away all the stuff they haven't been playing within a month or more. Instead of lining the furniture against the walls, bring it together to support communication.
We like to think of our kid's rooms as safe and hazard-free, but that might be far from the truth. Use these tips to replace potentially harmful materials, provide fresh air and create a healthy and inspiring environment for your child.
Claire Hastings is a wanderer and Australia based writer. She writes as long as she can remember, and she is very passionate about sustainability and healthy lifestyle.