Amanda Jenner's potty training tips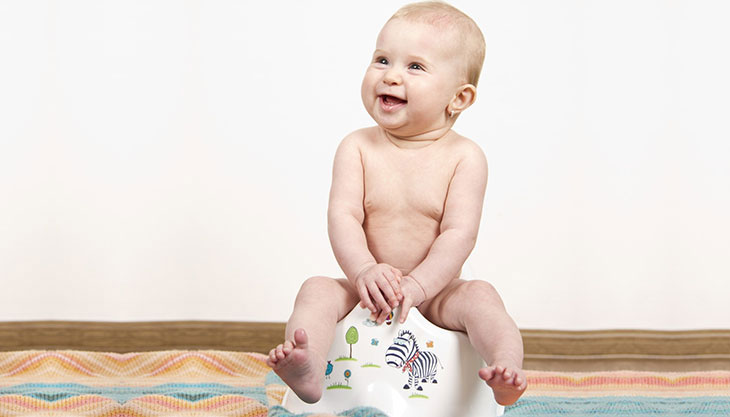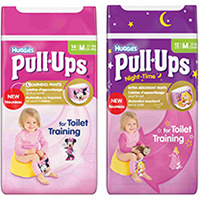 Involve your little one from day one. Let them choose their own potty and get them excited about potty training. Remember HUGGIES® Pull-Ups® are specifically designed to make potty training easier!
Gather up every last nappy in the house. HUGGIES® Pull-Ups® are the perfect tool for potty training and will help you and your little one say goodbye to nappies. You won't need nappies anymore now your little one is potty training. Also remember to dress your little one in something that is easy to remove so they can be on the potty as soon as they feel they need to go.
On the day you decide to begin potty training, start things off in the morning and help your little one with their new routine. Encourage your little one to sit on the potty every morning as soon as they wake up. Super stretchy slim sides helps toddlers pull them up and down on their own – just like real underwear. They might not always need a wee but this is good practice. During the day whenever your little one needs a drink, wait 20 minutes then encourage them to use the potty.
Always give them lots of praise every time they use the potty to encourage them. Lots of praise and rewards are a big part of training and a great way to keep your toddler motivated. You can download one from the HUGGIES® Pull-Ups® website. Let them know they can choose a magic sticker every time they use the potty or toilet. Stay positive, even when accidents happen.
Many parents are afraid to venture out when potty training, but there is really no need. All you need is your HUGGIES® Pull-Ups® and a potty.
When it's bedtime, help your little one change into their HUGGIES® Pull-Ups® Night-time pants. HUGGIES®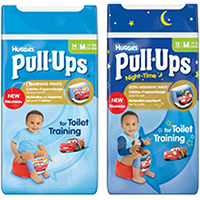 Pull-Ups® Night-Time provide extra absorbency and increased protection during the night without having to revert back to nappies. Becoming dry at night usually takes a little longer than daytime dryness. If you notice your little one's Pull-Ups® are dry several mornings in a row then move onto pants.