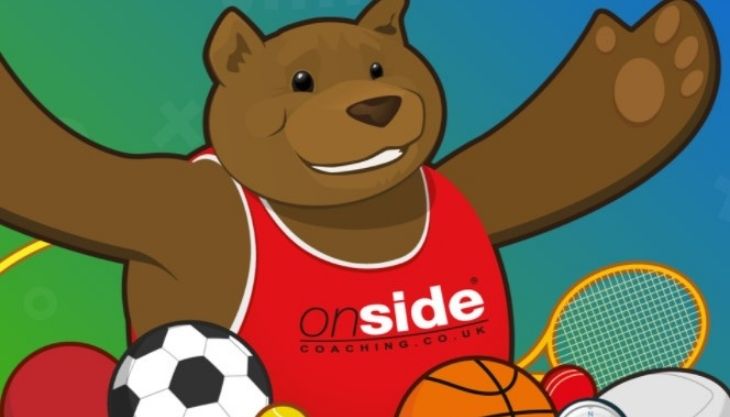 Onside Coaching Holiday Camp
At Onside Coaching Holiday Camps, we understand how hard it can be to juggle work commitments and the school holidays, that's why we offer fun activities especially designed to entertain and educate any 5 to 11 year old, all under the watchful eye of our fully qualified team members.
Football
Using up to the minute techniques, the course targets specific skills each day with coaching in the following areas:
Dribbling
Passing
Control
Shooting
Goal Keeping
EACH AFTERNOON WE PLAY SMALL-SIDED-GAMES, FOCUSSING ON THE SPECIFIC SKILLS ABOVE.
Active Kids
Active Kids is our new Onside Coaching Holiday Camps course that blends Forest Schools, Team Building Challenges & Sports activities in to one.  Trainers and Wellies are advised!
Here are just some of the things children will have the opportunity to take part in.  Of course, the exact timetable each day will depend on the weather, but dont worry, come wind, rain or shine, fun and adventures are guaranteed.
FOREST SCHOOLS ACTIVITIES INCLUDING:
Knots & Lashing
Shelter Building
Ephemeral Art
Fire Lighting (Weather/Day permitting)
TEAM BUILDING & CHALLENGES INCLUDING:
Capture the Flag
Orienteering
Night Line
Rocket Building
Build-a-boat
FUN SPORTS INCLUDING:
Dodgeball
Handball
Archery
Tri Golf
Tennis
and many more
WHEN
During the school holiday. Typically between 9:30 & 3:30, but with 'Wraparound Care' options available.
WHERE
Onside Coaching Holiday Camps run at a wide selection of venues, so finding one near you or your work shouldn't be too hard.
PRICE
Childcare and fun activities at a fantastic day rate – discounted even further for multiple days.