Wyre Forest Taekwondo runs classes for children, adults, and family groups, plus with an exciting collection of online classes still available to choose from.
In your local area we have classes at Bewdley, Hagley, Clent, Droitwich Spa, Chaddesley Corbett, and Belbroughton.
Testimonial:
"My Jessica had always struggled with her confidence.  Taekwondo has helped her to realise just how strong and capable she really is.  She has just passed her black belt grading and loves helping others now as an assistant instructor.  Taekwondo has given her so many opportunities to succeed along with making new friends and finding a whole 'Taekwondo family' to support her each step of the way.  I'm really pleased that I chose to have a go myself a few years ago and realised its not just for kids!  We have shared so many special moments together over the years we are now closer than ever.  I can't thank Wyre Forest & Wychavon Taekwondo enough!"  Helen Giles, Bewdley.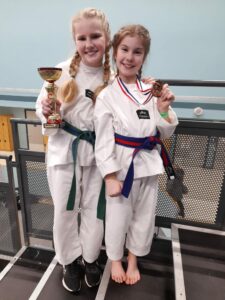 Families Can Train Together
Taekwondo Training is the all-round hobby for the whole family to improve as individuals and to take on new challenges together, building strong bonds together that will last a lifetime.
---
Benefits of Joining Wyre Forest Taekwondo:
Improved body shape, better total fitness, build confidence, improve flexibility, reduce memory loss, improve agility, learn practical self defence skills, make new friends. Do Taekwondo with your family or partner and see the benefits to your relationship as you face new challenges together!
Taekwondo is for all ages and abilities and can improve your health and fitness, strengthen your body and improve motor skills, discipline, determination and confidence.  It is also proven to be an effective way to lose weight and stay trim and toned while learning a practical skill.
BEGINNERS CLASSES ENROLLING NOW!
The TAGB is among the largest martial arts associations in Europe, and as such students have the opportunity to compete in local, regional, national and international tournaments.  We grade under national examiners and your qualifications will be internationally recognized.
We are one of the last remaining PURE Taekwondo clubs, studying the traditional martial art as it was originally designed.  We are part of the TAGB (The Taekwondo Association of Great Britain), a founding member of the British Tae Kwon Do council.  Members of the BTC recognised by Sport UK as the only governing body for Tae Kwon Do in the UK
Most importantly Wyre Forest Tae Kwon-Do is a fun and friendly club, free of attitudes and egos, where all people, no matter what their starting ability, can flourish at their own pace and achieve any goal they set their mind to.
Special Needs Provision:
At Wyre Forest Taekwondo we accept everyone who wants to try, and we will continue to work with anyone in their journey as far as they want to take it. We currently have people with a wide selection of differences, in fact we are all different and we treasure that.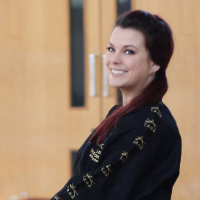 Instructor Katie Billingham, 5th Dan Black Belt, is fully qualified, licensed and insured, DBS checked, first aid trained,  a fully qualified Personal Trainer and Boxercise Instructor, a member of the Register of Exercise Professionals, with a Level Two Group Fitness Instruction qualification and 26 years of Taekwondo training under her belt.  Katie has devoted most of her life to her students and her art. She is passionate about the overwhelming number of benefits taekwondo provides and hopes to provide a safe, friendly place where people can grow in skill, confidence, and fitness.  You are in good hands at Wyre Forest Taekwondo.
Contact Katie Billingham to book at Wyre Forest Taekwondo.  Call 07885 293088, email WyreForestTaekwondo@gmail.com, or see www.WyreForestTaekwondo.com for more information.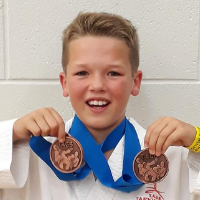 Special offer
Come along for a FREE TRIAL WEEK with Wyre Forest Taekwondo!
Raring2go! readers may claim one WEEK for free, for them and up to 3 guests on production of the voucher.  Redeemable at any TAGB Wyre Forest Taekwondo School.
Tell them that Raring2go! sent you!