The Showroom is Sheffield's only independent cinema, located in the heart of the city right opposite the train station.
It offers a family-friendly environment with films and activities for children of all ages. Plus there's a Cafe Bar serving meals, light bites and delicious homemade cakes. Uniquely, the Showroom also serves its very own homemade ice cream at the cinema Kiosk.
The Showroom also works closely with local schools, bringing school parties in for regular screenings and workshops to compliment the school curriculum.
In 2015, the Showroom is celebrating its 20th birthday and is planning a refurbishment of its cinema screens. Find out more 
here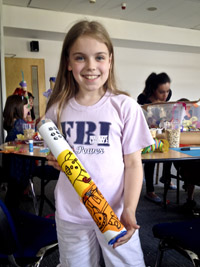 Saturday Club
Every Saturday at 12pm, families can take part in fun activities at the Showroom, from creating your own characters to making music for silent films. This is an hour's activity before the Saturday family film at 1pm, and is free to attend for those watching the film. £6.50 for under 15s (includes activity, packed lunch and 1pm movie) £4 for accompanying adults to watch the film
Festivals
Showroom celebrates Showcomotion Young People's Film Festival, our annual festival where you can attend the opening gala dressed up as your favourite character, see premieres, short films from around the world and get involved in workshops on film making and animation.
CLICK HERE FOR MORE DETAILS
Babies Welcome
Kino Bambino: Babies under 1 year are allowed into the latest releases. Watch the film with the lights on low and sound down a bit so you can keep an eye on the little one with no one telling you to 'shhh'. We are also a Breast Feeding Friendly venue.
Teens
Join Interactive (for 15-18 year olds) and you can get cheap cinema tickets and enroll on club activities including film reviews, discussions and workshops.