"Come on kids, there's lots to see and do. Your adventure is just beginning!"
New Safari ride opening Summer 2017!!!
Bet you've never heard a goat yodel or a potato talk, but you will at Sundown Market, and with your help all the animals in the musical pet shop will join in the chorus of their very own song. Explore the Rodeo Corral Indoor Play Area and climb aboard the Rocky Mountain Railroad, but hold onto your hats folks, those pesky bandits are popping up everywhere.
Be careful not to wake the dragon as you enter the Lollipoppet castle with all its smells of candy. Then it's on to the Tractor Ride for a trip around the countryside before talking to the animals on our Animated Farm. Grab those bows and arrows and climb aboard the Robin Hood Ride to join Robin and his merry men as they travel through Sherwood Forest. Then it's onto Crash Landings – our fantastic four storey indoor play area and café, climb and explore the jungle where you may get a surprise from a cheeky monkey or a slippery snake.
Run, swing and play in our bright and colourful Angry Birds Activity Park. Take a spin on the Okie Yolkie ride and bounce along on the Giddy Piggies ride. Don't forget to sing and dance along with the Monkeys at Monkey Mischief.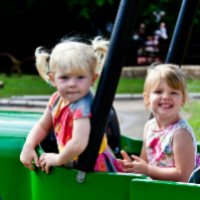 Don't forget about our fantastic Fort Apache play area in the remote western cavalry post of "Fort Apache" in the old American West. Everything is going on here, slides, tubes, tyres and much more. A good base for scouting around Sundown, but watch out for enemy attach from those Indians, outlaws and hostiles.
Ahoy there! Time to take to the Jolly Pirate Ride – but you better watch out, for who knows were those wicked pirates are lying in wait with a surprise or two! Don't forget your buckets and spades – you'll need them in Captain Sandy's Play Cove.
But no one can be scared of the delightful little friends whose lovely scenes lead us through the seasons on to the magical Sleigh Ride through Santa's traditional winter wonderland, hey, what's that reindeer doing in bed?! When you're ready for a break, take the kids for a snack or a treat in one of our cafes or shops where there are lots of goodies available.
Also don't forget, we're open at Christmas, so come along and ride our fantastic night before Christmas ride before visiting Santa in his Lovely home and receive a free gift for all children aged 2 to 10 years.
The Theme Park uniquely designed for the under 10's.
A whole day of fun for all the family
Ride, Slide and Explore
For Opening times and prices please visit www.sundownadventureland.co.uk