Story Rangers Wolverhampton & South Staffordshire
Story Rangers deliver fun and educational story-based classes for children in the local community and offer a variety of options for childcare settings and nurseries. Story Rangers is built upon the belief that stories have the power to transport children to other worlds, to develop their language and communication skills, to grow their imaginations and to help them explore their own feelings, relationships, and the world around them.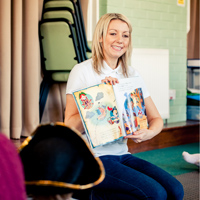 Classes are delivered by Emma, an experienced and qualified English teacher and Mum of two young boys, who runs the classes in South Staffordshire and Lorna, a mum and former attendee of the fantastic Story Rangers parent and child classes, who is now part owner and run the Wolverhampton branch.
Sessions typically last between 45 minutes and an hour and are carefully designed to fully immerse children in the story-world. Using drama, props, music, games, sensory play, crafts and more, children will work together to embark upon a different story adventure each week where they might meet dinosaurs, dive under the sea, hunt for bears or blast off to space among many other exciting quests. Children are also given the opportunity, when they are ready, to begin verbally telling and acting out their own stories.
Community classes are ideally suited to children aged 2 – 5 and as well as a short, structured circle and story-time, include plenty of opportunity for you to relax and socialise with other parents in a warm and welcoming environment whilst enjoying that all important quality time with your little one/s. Single class trials are available.
Why choose Story Rangers?
Have fun making special memories with your child whilst meeting other parents and carers
Grow a lifelong love of stories
Build language and communication skills
Stimulate imagination
Build confidence in a group situation in a fun, friendly and relaxed environment
Help your child to explore feelings, relationships and the world around us
Sessions are explicitly planned to aid development in line with the EYFS
Delivered by an experienced teacher and mum of two.
DBS checked
Safeguarding
Paediatric first aid
Social media:
www.facebook.com/storyrangers/
www.instagram.com/storyrangers/