Stagecoach Chertsey have been running for 15 years, providing quality part-time training in the performing arts for children and teenagers aged 4-6 (Early Stages) and 6-18 (Main Stages). Our singing, dancing and drama classes run on Saturday's in term time and holiday workshops.  Students come from the Runneymede area including Chertsey, Addlestone, Ottershaw, Woodham, New Haw, Brox, Lyne, Longcross, Byfleet and surrounding Surrey areas.  Thanks to a dedicated and experienced team of teachers, all of whom have worked professionally in the industry, our weekend classes are varied, creative and fun. No experience necessary – just enthusiasm and a willingness to learn new skills whilst having fun making new friends.
Stagecoach Chertsey also accept childcare vouchers, making all performing arts training even better value!
What makes Stagecoach Chertsey so special?
Based for 14 years at St Anne's Catholic Primary School in historic Chertsey, since 2011 Stagecoach Chertsey has been awarded 7 OUTSTANDING accolades by independent inspectors and on Saturday 16th January 2016 the new inspection board  awarded the highest grade of EXCEEDS EXPECTATIONS for the quality of teaching in SINGING, DRAMA, and DANCE and for STUDENT PROGRESS: ACHIEVING  POTENTIAL. Overall: "A very creative and inspirational ethos. At Stagecoach Chertsey all disciplines are taught to a very high standard. The school is very well organised and students thrive in this positive environment. In this vibrant and happy school students are very well known and cared for as individuals."
Videos, student  testimonials, photos,news and an online enrollment form can be found on our website at www.stagecoach.co.uk/chertsey. Or call Principal Caroline McCrink on 0772 517 6102  to find out about our 2 week TRY OUT option.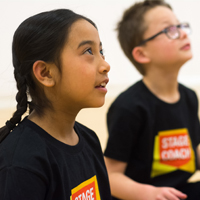 Our EARLY STAGES sessions are tailor-made for 4-6year olds and are lively, varied and above all fun.  Classes run for 90 minutes, split into three 30 minute sessions in drama, dance and singing. Class sizes are kept small which means we can help children develop their individual potential and boost confidence!
In MAIN STAGES children and teenagers aged 6-18 years, learn to sing, dance and act. They are split into similar age groups and taught 1 hour each of singing, drama and dance. Our training covers a wide range of dance choreography including Contemporary, Street, Hip-Hop, Musical Theatre and Jazz; creative drama classes develop acting skills in Improvisation, Character Building, Story Telling and Vocal Projection; Singing lessons help improve technique, vocal range, clarity and diction as the syllabus ranges from Musical Theatre, Pop and  Rap to contemporary styles.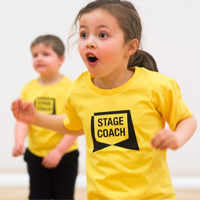 In our small and friendly classes children of all ages quickly develop their potential and  enjoy learning new skills in a non-competitive, safe and above all fun environment.
Stagecoach Chertsey offers a first class training in the Performing Arts. Our 2 Week Try Outs are the perfect way to experience our classes and join in the fun at Stagecoach Chertsey!
More details online!
To find out more about local clubs/classes, please visit the Clubs/Classes section of the Raring2go! website.
For information on local holiday holiday clubs and classes, please visit the Holiday Clubs section of the Raring2go! website.