Come and join us at Monkey Music!
Monkey Music, children's music classes in Bishop's Stortford, Hertford, Ware and Welwyn Garden City. Our children's music classes are unique in having different age-specific classes. Based upon a progressive curricula including over 500 catchy songs that will support their milestones as they grow. Monkey Music's classes are small and tailor-made for babies and toddlers from 3 months up to pre-school.  Each child is accompanied by their carer and little ones sing, dance and play musical instruments with the grown ups joining in the musical fun too!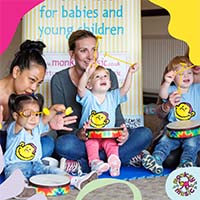 Rock'n'Roll is our stage one class for babies from 3 months. Monkey's gentle songs and lullabies have been especially composed for you both to share precious time together. Song words are closely linked to rhythmic body movements which relieve your baby's digestion and any stress they may be feeling while sensory props and stimulating visual experiences encourage Rock'n'Roll babies to move their bodies and make sounds with their voices.
Heigh-Ho is our stage two class for toddlers from 12 months and Heigh-Ho classes are full of catchy sounds and up beat tunes, colourful props to aid visual memory and repeated actions to reinforce a feel for the 'steady beat'.
Jiggety-Jig is our stage three class for 2 + 3 year olds. Older toddlers have fun with their friends and develop a strong musical foundation for their future learning.  Composing music is something that comes naturally to our Jiggety-Jiggers! Props, images, music, stories and poems are used to help these little ones create and perform their own special music.
Children are taken on a magical learning journey using music as a basis to support and encourage the four main areas of a child's development; creative development, social development, physical development and language development. Our weekly music classes will ensure you share precious time with your little one away from all of life's distractions reinforcing the bond between you and your child. We believe our music classes offer the very best in pre-school education and your first class is Free! Please pre-book through the website link below.
We look forward to meeting you soon.
Laura Parmar, Monkey Music Bishop's Stortford, Hertford, Ware and Welwyn Garden City…
Email here!   or call us on 01727 301758
Timetable:
Monday
Bishops Stortford:  St Michaels Mead Community Centre Turners Crescent, Bishop's Stortford, Hertfordshire, CM23 4FZ
Tuesday
Welwyn Garden City: Panshanger Church Hall, Panshanger Church Hall, 24 Hardings Way, Welwyn Garden City, AL7 2EJ
Thursday
Ware: Southern Maltings, Southern Maltings, Kibes Lane, Ware, Hertforshire, SG12 7BS