Challenge Academy's Baggeridge Adventure Hub
A multi-activity site in the heart of the Black Country with loads of exciting challenges for all ages and abilities from 4 years up to very very old.  We are a Community Interest Company so all profits ensure that we are able to sustain and improve.  Open all year round to the general public and organisations.
Over the last 10 years Baggeridge Adventure has grown from a simple high ropes challenge course to a 1 acre site equipped with a wide and diverse range of outdoor adventure facilities and opportunities. Baggeridge Adventure is an exceptional activity venue and it provides an exclusive and safe environment for everyone. Our affordable adventure packages are suitable for all ages and abilities and we pride ourselves on getting visitors outside of their comfort zones in a fun and secure environment.
High Ropes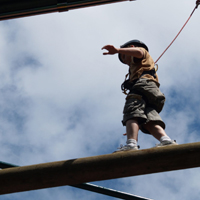 Adventurers can traverse through the high and low ropes courses, take a leap of faith down the PowerFan Descender and swing through the trees along the Zip Wire – above all, a high-level adventure guaranteed to get the adrenaline pumping! The course has state of the art safety systems and all instructors are highly qualified outdoor specialists.  Our rail safety system means that once you are harnessed up and attached to the system then you are safe and unable to unclip yourself.

Nets Adventure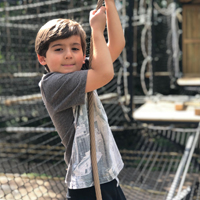 Adventurers of all ages can explore a series of tree houses and tackle different obstacles, suspended 12 ft high and supported by nets! Get across the floating islan
ds, swing from the hanging vines, conquer the broken bridge and jump around on the bounce pad. Minimum age 4 years.
Obstacle Course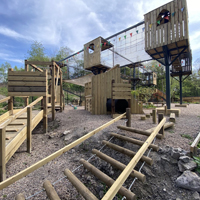 Our obstacle course will test anyone and we love it!  Leave it to us to make sure that the challenge is suitable for you when you embark on your journey with your mates, family or colleagues.  There are a total of 15 challenges for you to tackle on your journey.  You will need to balance, swing, climb, scramble, crawl and jump to conquer the challenges that we are going to set for you.  We supervise the course to ensure that you and the people around you are always safe.