Visit the award-winning Black Country Living Museum and join in with 300 years of history like no other. One of the most extraordinary open-air museums in the UK, the Museum, near Dudley, immerses visitors into the sights, sounds, smells and tastes of the past. Explore original period shops and houses and meet the Museum's costumed characters along the way – they'll explain what it was like to live and work in one of the world's most heavily industrialised landscapes.
You'll uncover the industrial past of the Black Country as you descend on foot 'into the thick' of underground drift mine and face the harsh reality of a coal miner's life in the mid-nineteenth century. You'll also see sparks fly as our chain maker forges a link of one of the main exports in the region during the industrial revolution. See the impact the Black Country had on the world as you step inside a full scale working replica of the world's very first working steam engine – the Newcomen, made in 1712.
Ride a bus or take a tram down to the Museum's Canalside village. Explore the past as you step inside the shops and houses that were once in the Black Country. Discover weird and wonderful treatments of the past in Emile Doo's Chemist; indulge yourself in our Victorian sweet shop; test your times tables in our school or watch a film in our 1930s Lime Light Cinema. Once you've worked up an appetite, grab a bag of our traditionally cooked fish and chips or quench your thirst in the Bottle & Glass Inn where a warm welcome awaits.
There's always something on for families from half term fun to special evening events, so be sure you visit www.bclm.com for more information!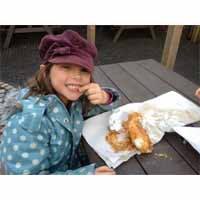 Admission
Please call or see website for details.
Directions
On A4037, 3 miles from M5 junction 2.
Opening Times
Winter opening, Wed-Sun, 10am-4pm
Summer opening, daily, 10am-4pm.
Please call or see website for further details