Peanut Butter Caramel Chocolate Cake
Cakes Biscuits & Sweet Treats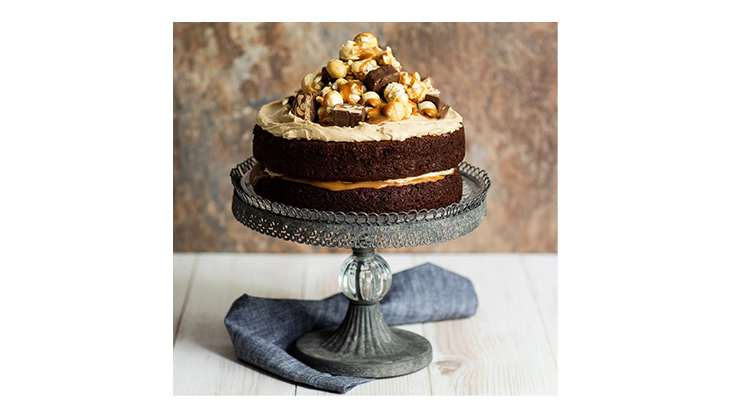 Makes 8 Portions
Preparations 20 minutes
30 minutes cooking time

150

C°, 300 F°, Gas Mark

6
Ingredients
For the cake

150ml Sunflower oil
150ml Yoghurt
5 tbsp Marmalade
175g Unrefined dark muscovado sugar
3 Egg(s) (free range)
225g Self-raising white flour
2 tbsp Cocoa powder
1 tsp Bicarbonate of soda

For the buttercream

140g Butter (unsalted)
280g Icing sugar
3 tbsp Proper Nutty peanut butter
25ml Milk (whole)

For the decoration

397g Caramel (dulce de leche)
4 Chocolate sweets (snickers bar)
100g Popcorn (caramel)
Method
Step 1:

Preheat the oven to 170°C (150°C fan, gas mark 3). Grease and line two 8″ round sandwich cake tins.

Step 2:

Beat together the oil, yoghurt, marmalade, sugar and eggs in a large bowl. Sift together the dry ingredients and beat into the cake mixture.

Step 3:

Spoon into the prepared tins and bake for 30 minutes.

Step 4:

Cool in the tins for 10 minutes then turn out on to a wire rack to become cold.

Step 5:

To make the buttercream, beat together the icing sugar, softened butter, peanut butter and milk until smooth and creamy.

Step 6:

Spread part of the dulce de leche caramel on to one of the chocolate sponges then top with some of the buttercream. Sandwich the other sponge on top and then spread the remaining buttercream over the top of the cake.

Step 7:

Cut the snickers bars in to chunks and decorate the top of the cake with them and popcorn.

Step 8:

Drizzle the remaining caramel over the top of the cake then serve.
Your friends and family are guaranteed to go nuts for this amazing showstopper cake. Soft chocolate sponge cake sandwiched with a Proper Nutty peanut butter frosting and caramel sauce. The piece de resistance of this cake is the tower of snickers and caramel popcorn that tops the cake. This is a great cake for any special occasion from Father's Day to birthdays.
This recipe is courtesy of Bakingmad.com