Cakes Biscuits & Sweet Treats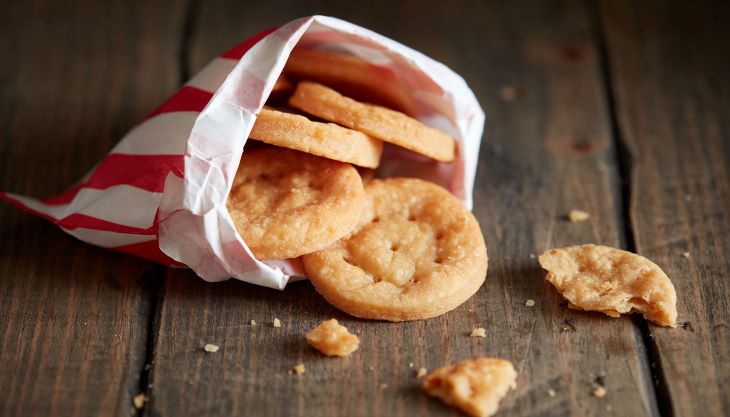 Makes 20 Portions
Preparation 10 minutes
15 minutes cooking time

180

C°, 350F°, Gas Mark 4
Ingredients
190g Cheese (we used strong cheddar)
50g Butter (salted)
100g Plain white flour
0.5 tsp Salt
1 tbsp Marmite
Method
Step 1:

Preheat oven to 180c (350'f or gas mark 4)

Step 2:

Mix together all the ingredients with a spoon, or in a food processor.  When they start to form a ball, knead together lightly then roll out the dough onto a lightly floured surface. You want to make it about 3 mm thick.

Step 3:

Using a small cutter or shot glass, cut out the biscuits. Poke some holes into the biscuits using a fork. Try to keep your hands cool whilst handling the dough to prevent the cheese from melting and the dough becoming sticky. You can always refrigerate the dough for 30 minutes to bring it back down to cool.

Step 4:

Lay the biscuits on a silicon mat or parchment paper onto a flat baking tray. Bake for 15 minutes.

Step 5:

Leave to cool on the tray then remove the biscuits. Store in a dry place for up to 3 days.
These mini cheddar biscuits are tiny bites of sheer delight. These are easy to make and perfect for snacks and lunch boxes. We've added marmite to our recipe which really brings out the cheese flavour. This is optional, so if you're not a fan, you do not need to add this.
This recipe is courtesy of Bakingmad.com