Review of 'Squishmallows Take 4' game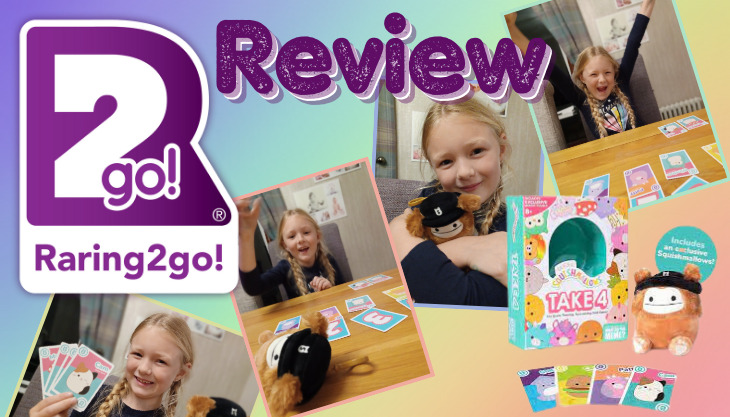 With winter nights looming, family games are a great way to bring everyone together for some quality bonding time. Family games provide entertainment and promote healthy competition, critical thinking skills, and teamwork.
My family and I have had the opportunity to review the new 'Squishmallows Take 4' game recently and I'm pleased to say we've really enjoyed playing it; my 6-year-old daughter is asking to get it back out every other day now.
It does say aged 8+, but as you may have noticed, we think it's fine for kids a little younger. I would say they advise a higher age as you really do have to think and act fast!
It's very easy to understand and different to other card games as you have the addition of a cute and very soft 'squishmallow' toy (Benny) – for which you must be really quick to grab in order to collect your desired card if someone else is trying to collect the same.
The only issue you might encounter is the classic 'it's not fair' coming out of the kid's mouths!! But that's nothing out of the ordinary, is it?
We found it so hard being patient enough to 'wait' to grab Benny, so sometimes it was grabbed prematurely. We tried hiding him, to begin with, then doing a second countdown or saying 'go' suddenly for when we were allowed to grab him – during which point my husband and daughter decided to increase the fun by tricking us by saying things like 'goat' and 'golf' which got me laughing with tears. This is the kind of joy that a games night brings! After a while, you get into the correct rhythm, and it is a fun game that you can all play together over and over.
So, I recommend buying this, along with some other family games you like the look of, then gather around the table, grab some snacks, and get ready for some laughter-filled moments. It's time to create lasting memories with your loved ones while having a blast!
Age 8+ | RRP £16.99 | Available from WHSmiths and Game https://www.game.co.uk/en/squishmallows-take4-card-game-2907838