We're Raring2go back to Enchanted Tea Rooms…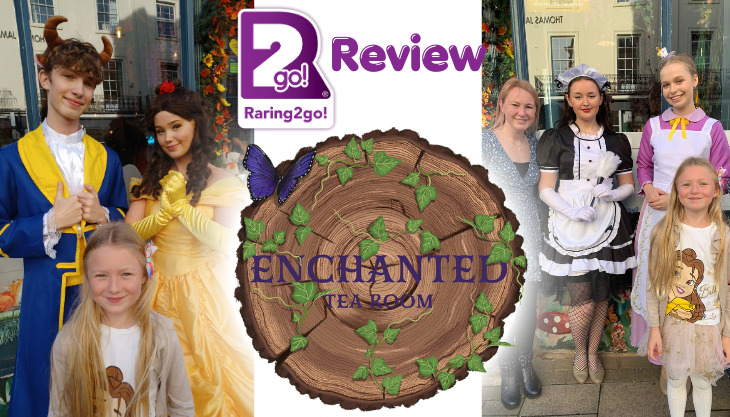 On Sunday, my family and I went to a very special afternoon tea at the Enchanted Tea Rooms in Leamington Spa, when they were launching their latest 'theme' – Beauty and the Beast.
When we arrived, the outside of the cafe had beautiful autumnal decorations, and as soon as the door was opened Belle was there to greet us. The waiting staff showed us to our tables, were very friendly and arranged our drinks very quickly.
We had a little wait for our food, which I thought was unusual, as I've been before and know they tend to bring it out as quickly as possible as people arrive so the entertainment can start. However, I soon realised, the wait was done purposefully as there was a 'wow' moment coming up… All the food suddenly came in to the song of 'Be Our Guest'. With Mrs Potts, Fifi, Belle, and the Beast bringing out the most delicious-looking food to the sound of:
"Ma Chere Mademoiselle,
it is with deepest pride
And greatest pleasure
that we welcome you tonight
And now we invite you to relax
Let us pull up a chair
as the dining room proudly presents…"
I'll let the photos speak for themselves regarding the food: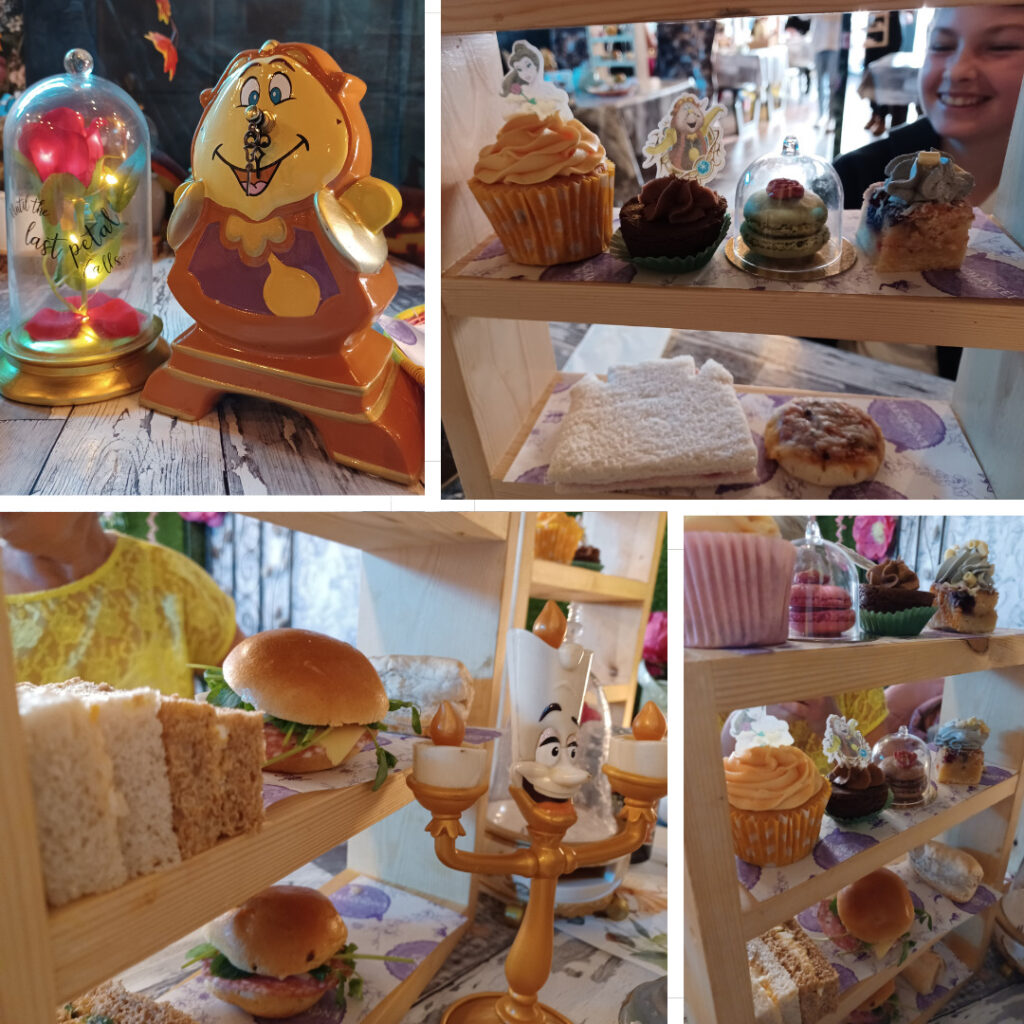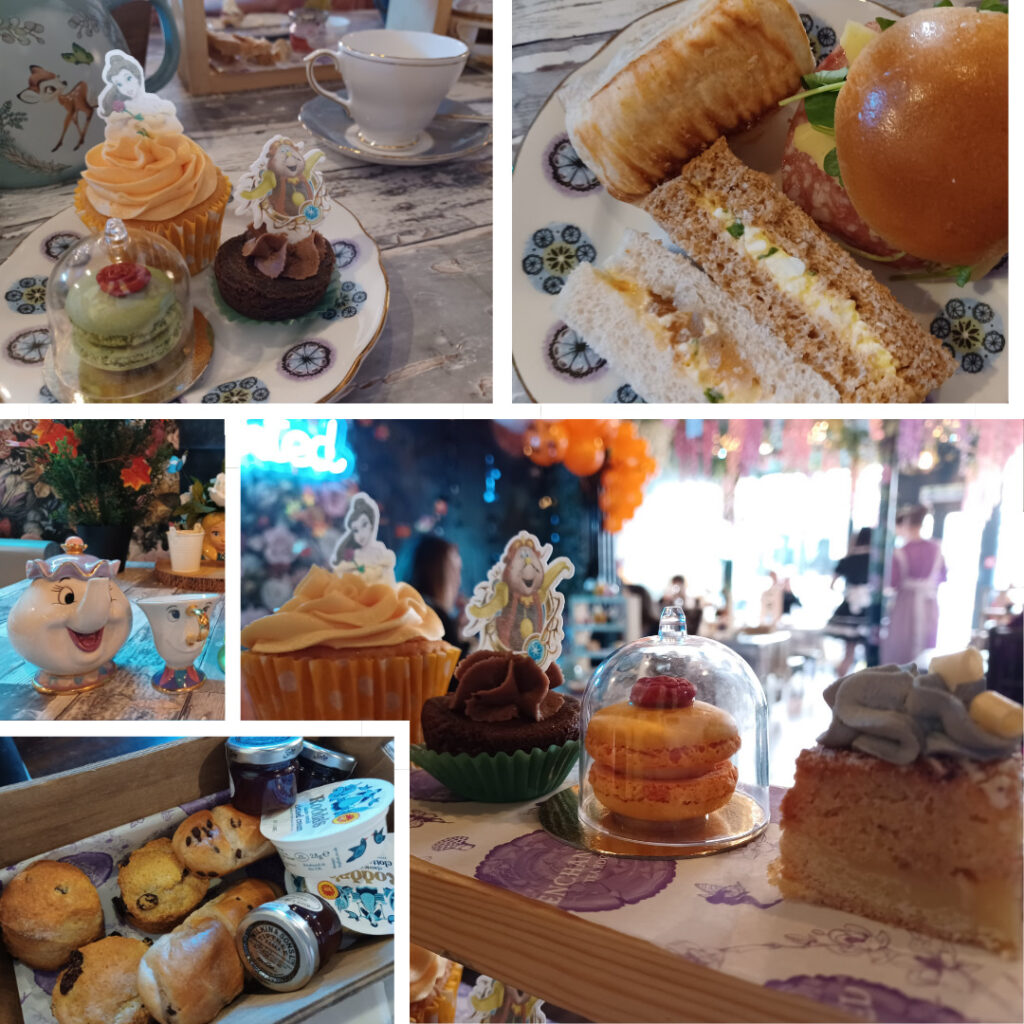 Whilst you eat your delicious afternoon tea, the entertainment continues. The 4 characters present are constantly coming around to chat to the children, and then the live singing starts!
We heard the song 'Belle' first, then Belle and the Beast sing 'Something There' together. The Beast performs 'Evermore' solo and then finally we enjoyed all four characters singing 'Be Our Guest' together. All had great singing voices, but the Beast was outstanding.
Towards the end, there's an opportunity for the kids to get up and dance with the Characters – my daughter always gets shy at this bit, but she gave it a go, and I could see the other kids getting really involved and enjoying this.
There's a bit of time after this to finish your food and get photos! See ours below… we'll be keeping these forever. Disney princesses have been a big part of our lives since my little girl had had enough of Peppa Pig a few years ago 😂. It's so nice having somewhere like this to go to meet them. And if you don't manage to finish your food (I rarely do at an afternoon tea) they'll bring you a box so you can finish it at home.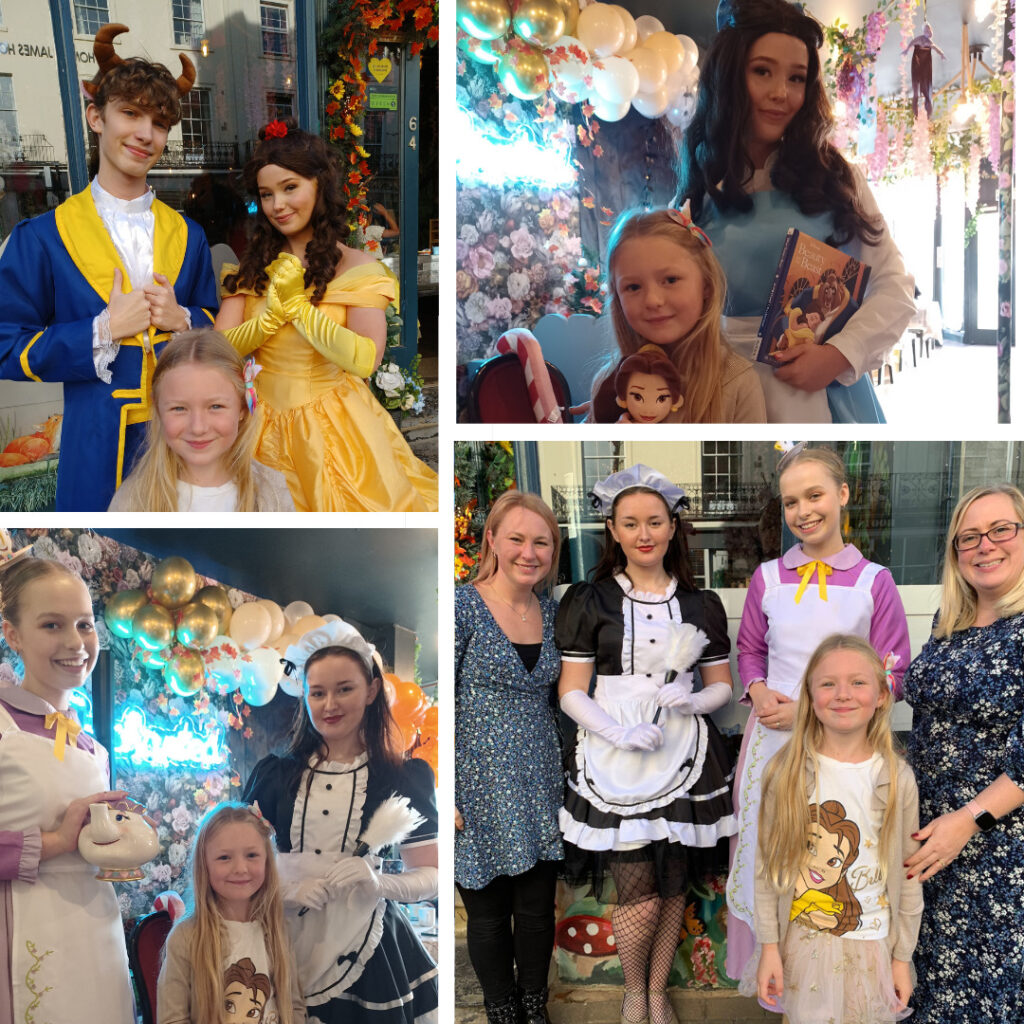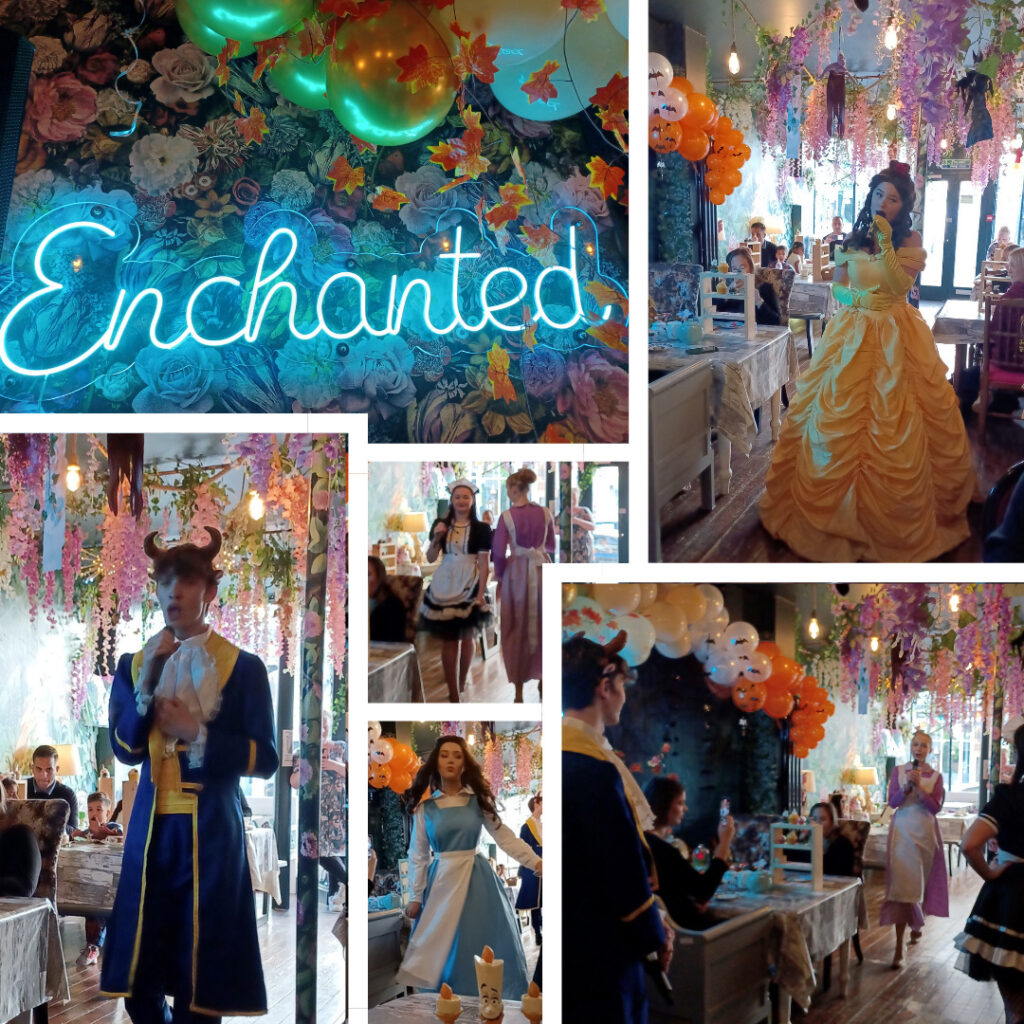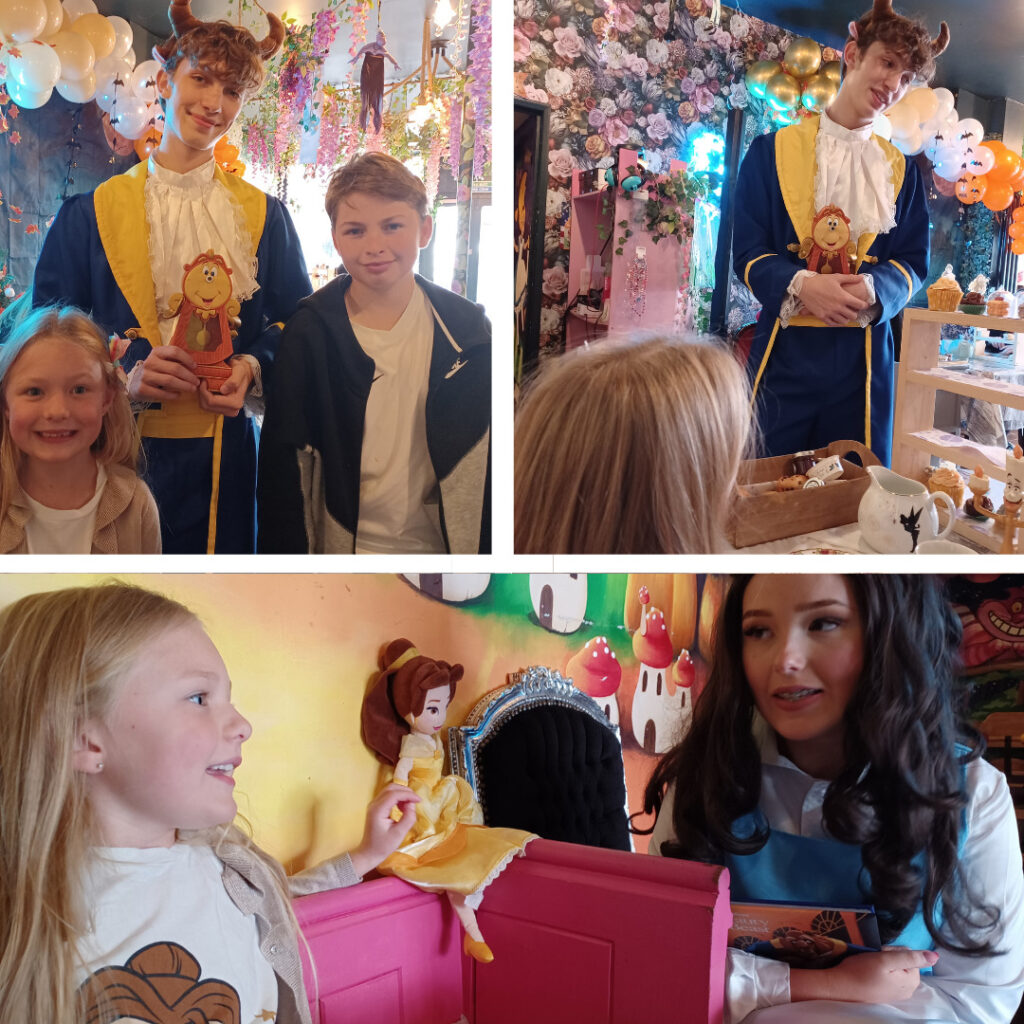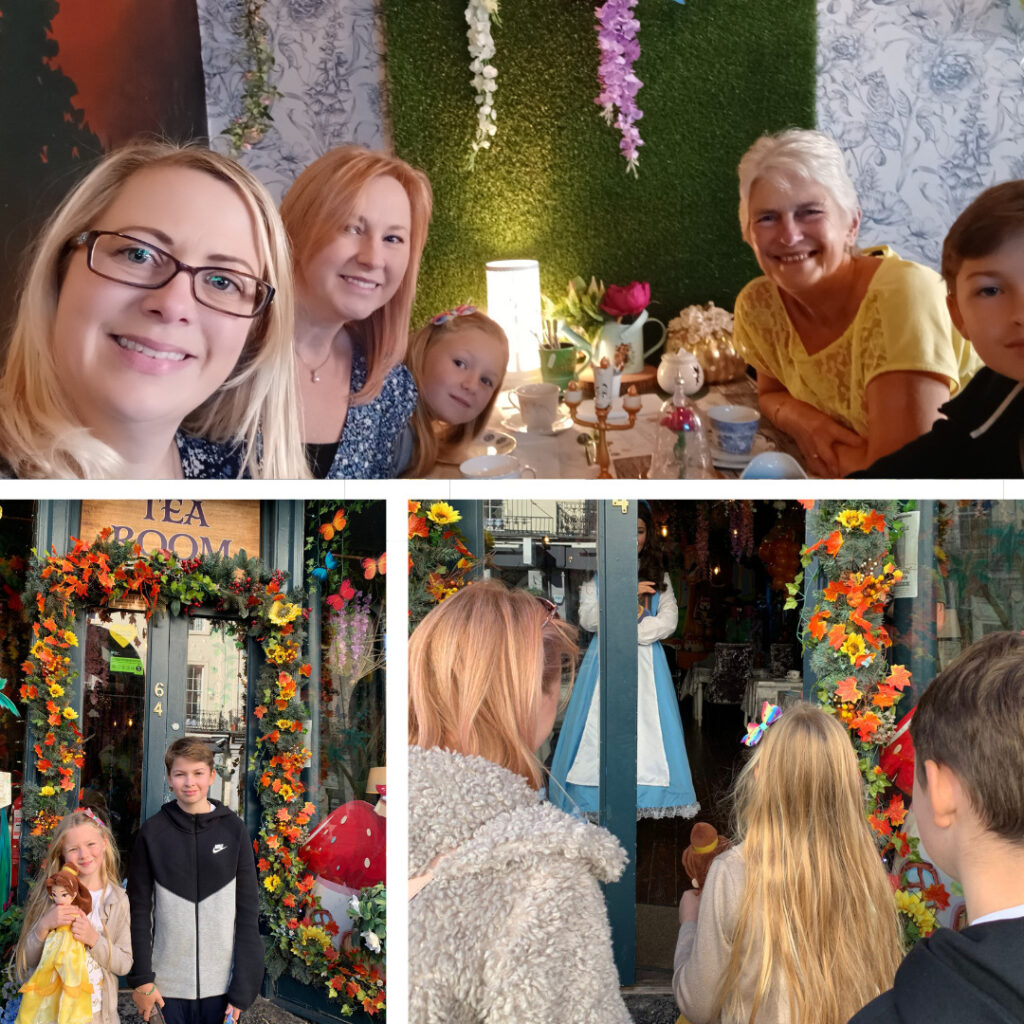 As the events themselves don't last any longer than an hour and a half, we make the most of the day by visiting the park, play area and some shops while we are there too, all within walking distance.
I would recommend coming here. This is our 5th visit now! In the past, we have done Frozen, Encanto, Polar Express and Cinderella/Halloween-themed afternoon tea events. We're next looking forward to the likes of the Descendants, Zombies and Barbie events now that my daughter is getting a bit bigger.
I may have to catch the train to an adult's event night soon too, there is a Grease one coming up in November that looks fab! They offer themed cocktails on these nights too, for which the train station is perfectly located right around the corner!
If you'd like to see some videos of the performers in action, visit Enchanted Tea Rooms facebook reels. To see their full list of event dates and themes coming up, visit their website.
Keep up to date with Raring2go! for great Places2go and Whats On!