10% discount at Habberley Trail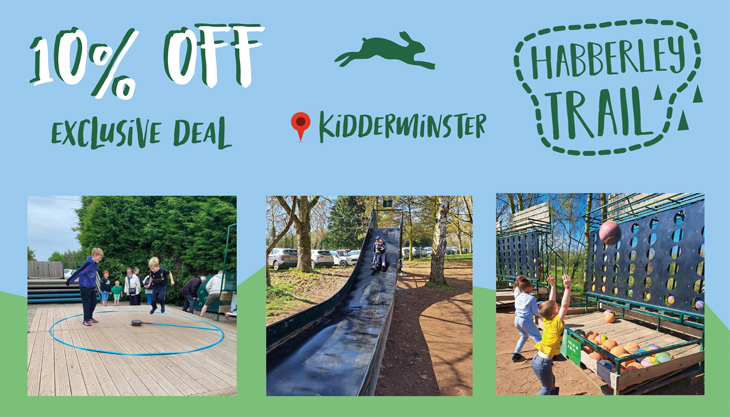 Click here to book your special 10% discounted rate at Habberley Trail with raring2go! – which has been continued until the end of 2023 at least!
HABBERLEY TRAIL, KIDDERMINSTER – UNLEASH YOUR INNER ADVENTURER
The little, the young and the mature are all welcome to the Habberley Trail! Here you can unleash yourself with some exciting activities, enjoy a stroll through our outdoor adventure trail and have a snack for the entire family. Invite everyone you want to spend a day with and let your vigour swing!
The Habberley Trail greets all guests with an unforgettable spirit of adventure. With its magnificent trail, picnic areas and awe-inspiring round-a-bout swings overlooking splendid surroundings in Kidderminster, this is the only adventure trail that will keep you intrigued throughout the day.
Those looking for adrenaline rushes are spoilt for choice! You'll have a lot of surprises along the way, making your outdoor experience nothing but amazing. If you don't want to miss anything, view our map. But be warned! It doesn't show all the Habberley Trail's gems.
Parents planning a day of larking around with their kids can enjoy a family get-together when crossing the Water Squirter Bridge or trying other activities. We know your little ones can't wait to be let loose in the countryside!
Those seeking some alone time away from the hustle of everyday life can visit our trail in Kidderminster to soak up natural beauty while having a picnic.
Couples exploring active dating ideas can push themselves with our competitive attractions so that their feelings sparkle with new colours.
Check out our special discounted offer here or find out more about Habberley Trail here