Review: North Yorkshire Moors Railway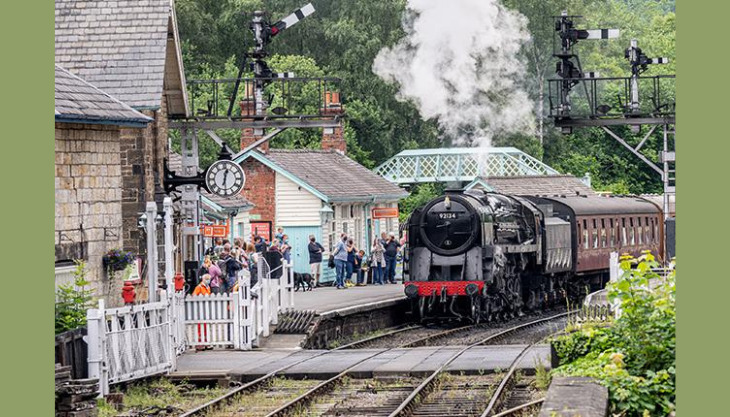 This year the North Yorkshire Moors Railway celebrates its 50th anniversary, and as part of those celebrations they have launched The Big 50 Summer Holiday Challenge! We were lucky enough to be invited onboard this week to see how many we could tick off this list.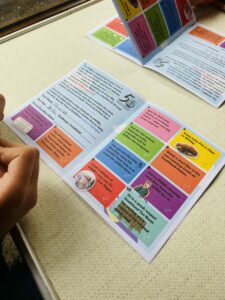 Tickets for this year are priced at £45 per adult and children travel free – and whilst that may seem high initially, that price is not only a hop on hop off price, but it gives you as many return visits as you like for a whole 12 months. You can also just book specific journeys if you prefer, but the annual pass for £45 is such good value.
We arrived in plenty of time for our train, and we were glad we did. The car park is a short walk from the platform (and costs £6 for the day) – it was very busy when we arrived, as was the platform but we had no trouble at all getting seats on the train. (You can collect your booklet for the Big 50 challenge from the ticket office)
The carriages really do make you feel like you are stepping back in time, and the details are fascinating – try and spot the heating controls!
The carriages are pulled by either a diesel or steam engine – we were lucky enough to have both during our visit.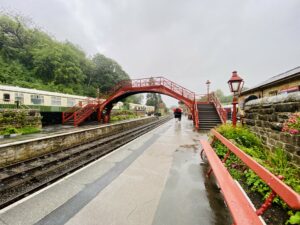 Today we chose to stop at Goathland first (a 45 minute journey from Pickering) – as a child of the 80s, not only did I spends the 90s watching Heartbeat but I spent the 00s watching Harry Potter, and for those that don't know, Hogsmeade station in the first 2 movies was actually filmed  at Goathland station! We only stayed for an hour in Goathland as the weather left a lot to be desired, but we enjoyed butterbeer from the station tea rooms, and a whistlestop tour of Heartbeat country. Had the weather been better, a picnic on the moors would have been perfect.
Next stop was Whitby (approx. 1 hour), and despite the rain we never fail to have an enjoyable visit here. Fish & chips and a turn on the 2p machines, followed by a wet walk on the beach – the perfect British summer!
The journey back was just as enjoyable, we continued to fill in our 'Big 50' booklet and ended up ticking off 13 in just 1 day – I'm sure if we had the annual pass we would be able to tick off all 50 before summer was out. As we had ticked off over 10, we could collect a special celebratory badge from the shop, which our boys loved and proudly wore!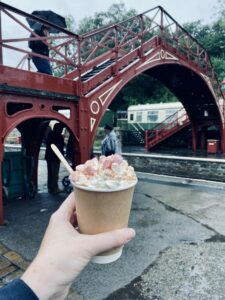 We really enjoyed our day on the NYMR – every single member of staff we encountered was so friendly and helpful, the carriages were spacious, comfortable and clean and we felt like we had stepped back in time. It's something really special.
We spied on our visit that NYMR also do Santa Specials, I think we know what we will be doing this Christmas!
Book your tickets here!