Our review of Demon Dentist, now showing at The Alexandra, Birmingham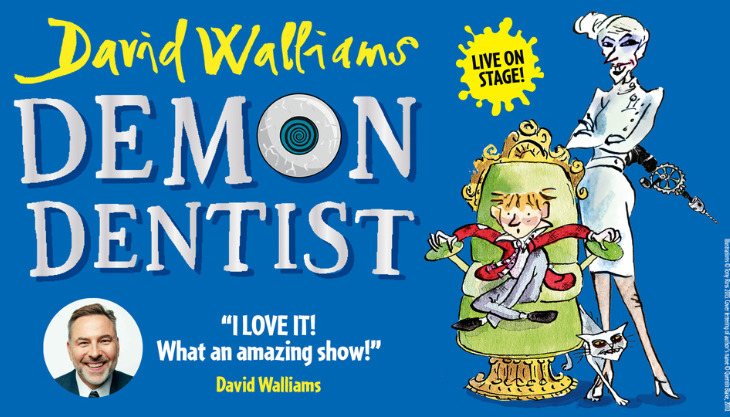 Quick… BOOK YOUR APPOINTMENT WITH FUN! David Walliams 'Demon Dentist', is playing at The Alexandra in Birmingham until this Saturday only, and it is so funny. Great for kids and parents too! Just make sure you stay comfy in a theatre chair and not the dentist's chair!
Anyone who's read any David Walliams books, or seen any of the shows, will know they are in for a treat. For anyone who hasn't; I went to watch it tonight and I've not yet read any of his books with my daughter. Now I'm looking forward to working through them all one by one and then watching them all too! I would certainly recommend you give this show a go while it's in town, (providing your child is not already scared by dentists!)
It was so silly at parts, which I expected, but it was also heartwarming, emotional, full of adventure and more. I was smiling and entertained all the way through, but be prepared for a bit of fright and such a sad part towards the end too. This being said it is done in a way that all the kids at the theatre tonight seemed to love from start to finish! My niece (Eve, 12) certainly did.
Eve has read the book more than once, and quickly read it all again once we booked our tickets to see the show. She was pleased the storyline matched from the book to the show; she had to hold in telling me what was about to happen in between each scene! She loved the Dad and Raj, but her absolute favourite bits were Mr Snoods' drama class and when Winnie ate all those Coffee Revels. They were hilarious and had the whole audience laughing out loud. Eve said 'It was full of action and kept twisting your emotions, happy one moment, but then sad and shocking'.
I must say all the other actors were brilliant too, Sam Varley who played the lead role of Alfie, was fantastic. I loved the storyline between him and his dad, and how they 'imagined' anything could happen. I always find it so amazing that such an incredible storyline can be performed with only a small number of actors – There were 9 in this show – all very talented.
The set, music, and choreography were all done really well too. The production was created by 'The Birmingham Stage Company' who also staged 'Gangsta Granny', 'Billionaire Boy', various Roald Dahl stories and much more.
I've seen varied age guidance for Demon Dentist, some saying recommended age 5-14 years, and elsewhere stating 11+ years. It truly is a great story and show, but remember, while it's very comical and gripping, it is about an evil dentist; I imagine not all 5 & 6-year-olds will be ok with this! As a parent, I think you can use your own judgement on whether to take your younger ones. Definitely a big hit with slightly older kids.
To book your tickets to see Demon Dentist at the Alexandra, Birmingham, this weekend, click here
The storyline as advertised by The Alexandra:
"Join Alfie and Gabz on this fabulous adventure, as they investigate the strange events happening in their home town! Children are leaving their teeth for the tooth fairy and waking up to find odd things under their pillows! Alfie and Gabz are determined to get to the bottom of the mystery – but no-one could have dreamed what they'll discover when they come face to face with the demon dentist herself, in this hilarious and thrilling story!!
Demon Dentist Live on Stage
by David Walliams by Birmingham Stage Company
CAST
Emily Harrigan – Miss Root
Sam Varley – Alfie
Georgia Grant-Anderson – Gabz
James Mitchell – Dad
Zain Abrahams – Raj
Misha Malcolm – Winnie
Ben Eagle – PC Plank
Aaron Patel – Ensemble
Mia Overfield – Ensemble
CREATIVE TEAM
Adapter and Director – Neal Foster
Designer – Jackie Trousdale
Lighting Designer – Jason Taylor
Composer – Jak Poore
Sound Designer – Nick Sagar
Choreographers – Paul Chantry & Rae Piper of Chantry Dance
Movement Director – Richard J. Hinds
Costume Supervisor – Nia Evans
Casting – Kay Magson
Production Manager – Adrian Littlejohns