J.M. Barrie's 'Quality Street' by Northern Broadsides and New Vic Theatre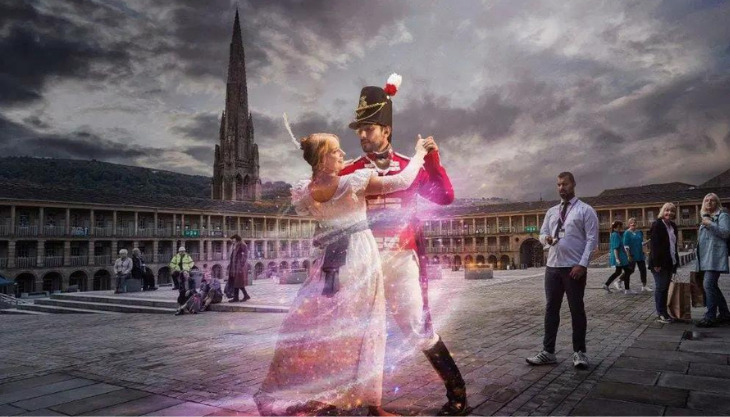 Northern Broadsides and New Vic Theatre have joined forces to co-produce this modern version of J.M. Barrie's 'Quality Street'. In its day, this play was so well received that it gave its name to the famous chocolates we all know and love. Of course, we had to take a box in with us to enjoy while we watched! In this version, Quality Street factory workers help to tell the tale adding lots of humour, witty one-liners and plenty of Yorkshire charm.
The story is set in Napoleonic Britain and follows the lives of two sisters. They believe they are set for life as one of them is due to marry. However, things take an unexpected turn when Phoebe's love interest is enlisted. 10 years later and her love returns but things have changed dramatically. Hoping for one last dance at a ball, Phoebe takes on a dual personality with hilarious and heart-warming consequences.
The first section of the first half is quite slow going and I did find myself wondering where the play was going and wasn't sure what to expect from the remainder of the performance. However, as the story developed I found myself well and truly hooked. This is a story of true love enduring all (which I am an absolute sucker for!) and I found myself becoming really attached to and invested in the main characters. The addition of modern twists by the way of the music and dance moves added to the comedic value and prevented it from becoming too serious.
A highlight for me was Paula Lane, of Coronation Street fame. She was absolutely fantastic as Phoebe and switched between her two roles effortlessly. I also loved the factory workers who narrated at various stages and added something a bit different.
If you're a fan of love stories, comedy or period dramas then Quality Street would be a great watch for you. The play is continuing to tour taking in Sheffield, Hull, Scarborough, Guildford, Keswick, Blackpool and Halifax.