Come out and play with the National Trust this summer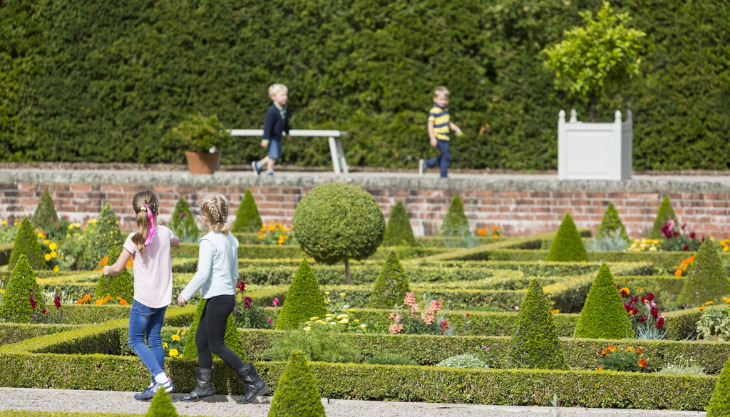 From pop-up play pavilions with a family-festival feel to interactive storytelling and open-air theatre, there are lots of events and activities on offer this summer from the National Trust.
And thanks to funding from Sport England over 140 National Trust houses, gardens and parks nationwide will be encouraging families to get active and take part in a Summer of Sport. With drop-in 'Come Out and Play' sports sessions including archery and athletics, hopscotch and hockey.
Here we've rounded up some of the best and most exciting National Trust events and activities to keep the whole family busy this summer.
To start planning your summer adventure, visit
www.nationaltrust.org.uk/days-out/worcestershire-and-herefordshire
Herefordshire
Berrington Hall
Your next adventure in nature is waiting for you this summer at Berrington Hall; run wild in the natural play area, build a den in the parkland, stop for a picnic by the lake and tuck into your favourite ice cream from the tea-room. Get active this summer with 'Come Out and Play'; you'll find games and other self-led activities throughout the gardens, including cricket, quoits, kites and skittles. Little ones can also take part in our summer holiday children's trail for £2.50 per child (prize included).
Brockhampton
This summer, discover the outdoors and reconnect with nature at Brockhampton. Families can run, jump and explore on our orchard play trail, see if they can spot the different wildlife sculptures and climb aboard the 'Herefordshire Bull' Trow which takes centre stage in the newly planted orchards. Families can also get active this summer, in partnership with Sport England, with 'Come Out and Play'; balance bikes will be available to hire for free from Visitor Reception throughout the holidays and there are 3km of accessible orchard paths to explore on two wheels. If you fancy unwinding instead, why not bring along a picnic and relax in a hammock in the orchards? Or pop into the Granary kiosk for your favourite take-away picnic snacks. Families can also try their hand at our children's trail which will be available throughout the holidays for £2.50 per child (prize included).
Croft Castle & Parkland
From wild woodlands to vibrant cottage gardens to picnic in, your summer holiday isn't complete without a family day out at Croft Castle. It's the perfect backdrop on a lovely balmy summer's day with plenty of space to play and lots to see and do, including garden games and self-led activities throughout the holidays, in partnership with Sport England. Families can run wild in our natural play area, complete with stepping logs, a den building area, rope swing and noughts and crosses. The castle play area next to the tea-room is perfect for younger children and little ones can have a go at our children's trail which will be running throughout the holiday for £2.50 per child (prize included).
The Weir Garden
Nothing beats a sunny day by the River Wye in the school holidays. Head to The Weir Garden to play and relax as you soak up the warm, summer sunshine. Spot birds and play hide and seek; the garden is your oyster, just waiting to be explored. Families can run, jump and get active this holiday, with 'Come Out and Play', in partnership with Sport England. There will be self-led activities for them to complete throughout the garden, leaving the whole family feeling happy-tired. Little ones can also have a go at our children's trail which is running daily throughout the holiday and discover more about archaeology at The Weir on Monday 25 and Tuesday 26 July to celebrate the Festival of British Archaeology.
Worcestershire
Croome
Croome offers you and your family the perfect place to spend warm summer days. Whether you want to explore the acres of parkland, sit quietly in the bird hides' and watch our feathered friends or simply stroll around the lake and miles of footpaths, there's something for everyone.
There will be free games and activities on the south lawn as part of our 'Come Out and Play' initiative in conjunction with Sport England. You can also follow our family friendly trail and discover more about Ted Deerhurst, the UK's first professional surfer who once stood to inherit the Earldom of Croome.
Greyfriars' House & Garden
Pay a visit to Greyfriars garden this summer, a peaceful, colourful oasis situated right in the heart of Worcester city centre. Relax on the sunny terrace with a cuppa and a slice of homemade cake from the Old Oak Café or pack a picnic and play garden games on a sun-drenched piece of lawn. Enjoy charming yellow begonia and see the roses reach up and climb the walls of the timber-framed house.
Hanbury Hall
Take in the glorious gardens at Hanbury Hall, made up of our Parterre and Formal Fruit and Vegetable Gardens, at their peak during the summer with striking colours and scents to take in. The gardens and surrounding parkland are the perfect place for a picnic, with the Orangery Lawn and Orchards among our favourites. Have fun and challenge your family to a game of bowls on our Bowling Green, set within the gardens.
Warwickshire
National Trust – Charlecote Park
Overlooking the river Avon on the edge of Shakespeare's Stratford, Charlecote Park has been part of this corner of rural Warwickshire for centuries. Still the Lucy family home after 900 years, you can explore the vision of the Victorian owners George Hammond Lucy and his wife, the formidable Mary Elizabeth, who extended their home and filled it with treasures from their European travels.
Coughton Court
Explore a grand home with a wealth of stories waiting to be discovered from amongst the family portraits and fresh flowers. Make yourself at home by the Saloon fire, climb up to the tower roof or marvel at the Throckmorton's Catholic treasures.