Salisbury Racecourse review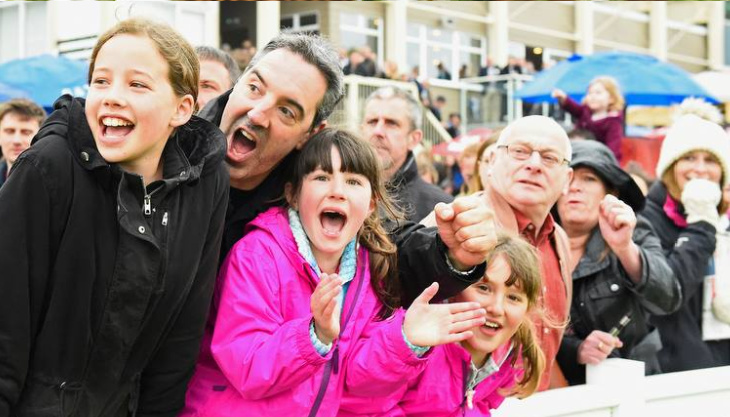 We were very excited to be attending our first ever races.  With Salisbury only 40 minutes from Bournemouth I can't believe we haven't been before.  Salisbury Racecourse run numerous family days to make it welcoming for all the family.  All those age 17 and under go free which is always welcome news to parents plus some events include extra entertainment for the little ones.
As we'd never been I wasn't really sure what to expect, the Salisbury racecourse website is very helpful if you're a rookie like us and full of information on things like dress code. (Smart casual if you're in the Bibury Enclosure, no dress code for the other areas.)
We bought a Racecard for a few pounds when we arrived which gives you a list of all the races and details about the horses and jockeys.  Gambling is by no means compulsory, you can very easily go through the booklet with the children, pick out your favourite name or colours and cheer for them to win – no different to picking a favourite team to cheer on in another sport.  We chose to have a little flutter, if there was a prize for being able to consistently pick the horse that was going to come fourth we'd have been rich but sadly that doesn't appear to be a thing!
There is plenty of food vendors on site, depending on the area you're in.  We were on a treat day and went to the lovely Bibury Enclosure which gave us access to nearly all the areas, restaurants and the parade ring to watch the horses before the race.  Prices vary but as an example Bibury tickets cost £25 on the day (no cost for the kids), £17 for the grandstand and all the way down to £10 each for the Sarum enclosure.  If you pre-book on the website they range between £23 and £10 so there is really something to suit all budgets.  It was nice to have the Bibury tickets and the freedom to explore everywhere with the 30 minutes between races and I'm sure we'll do the same next time we go.  The Sarum  enclosure still has access to the fair and it's the only area where you can bring your own picnic so at £10 for adults that's a really good, low cost, family day out.